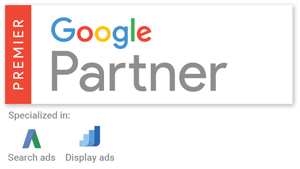 Portland, Maine – Hall Internet Marketing has been accepted into the Google Premier Partners program. The Premier tier of Google Partner's program serves to recognize agencies "who manage a substantial portfolio of Google advertising campaigns and deliver great results for their customers."
Google Partners reviews a number of factors before awarding Premier status, including implementation, client retention, advertising spend and staff member certification. Partners can earn specializations in five areas of expertise: Search, Mobile, Video, Display and Shopping Advertising.
"We're proud to have earned this specialization and to be recognized for our commitment to professional development and expertise in campaign management within Google AdWords," said Rachel Bowes, Director of Digital Marketing at Hall.
What is Google Partners?
Google Partners provides online marketing companies and professionals with the resources, training and support to help advertisers be more successful online. Agencies receive access to a range of benefits including free product exams and certifications, training events, promotional offers and rewards, professional networking, and other tools.
About Hall
Hall is a globally recognized, data driven, digital agency that focuses on Search Engine Optimization, Technical SEO for Retailers, Paid Search Marketing, Digital Advertising and Retargeting, Web Analytics, User Experience Optimization, Email Marketing and the design and development of WordPress and WooCommerce websites.