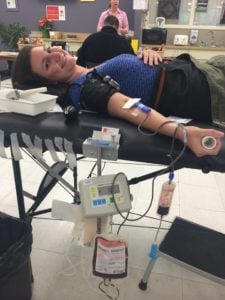 Portland, Maine – On Wednesday, May 14 Hall Internet Marketing, Maine's largest fully interactive marketing agency sponsored its 4th Annual Donor Day at the American Red Cross Donor Center in Portland, Maine.  This all-day event brought in 23 donors and everyone who donated was entered into a raffle to win a Keurig coffee brewer.
"Everyone gets excited when we have a successful project, like our recent donation day," states Rachel Bowes, Director of Digital Marketing. "I think it makes everyone feel good that our work is paid forward and that we are positively impacting so many people beyond our clients.
Hall is involved in several other outside events throughout the year, including the American Heart Association Southern Maine Heart Walk and the Casco Bay Technology Hub's monthly speaker series, PubHub.
"Donating for the American Red Cross made me feel closer to both the cause and Hall's commitment to helping the Portland community," says Mary Soule, Junior SEO Analyst.
For more information about donating blood please visit, http://southernmaine.redcross.org/ or call 1-800-RED-Cross to schedule an appointment.
About Hall
Hall is a globally recognized, data driven, digital agency that focuses on Search Engine Optimization, Technical SEO for Retailers, Paid Search Marketing, Digital Advertising and Retargeting, Web Analytics, User Experience Optimization, Email Marketing and the design and development of WordPress and WooCommerce websites.