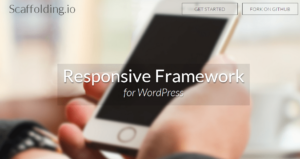 Portland, Maine – Hall Internet Marketing, Maine's largest fully interactive marketing agency, is pleased to announce an Honorable Mention Awwward for its newest theming framework website, Scaffolding. This recently released project, which has been in development internally with Hall's team of expert web designers and developers for the past 18 months, boasts a responsive WordPress theme framework designed to help create a custom look and feel.
"We are very happy to receive the Honorable Mention Awwward for our Scaffolding site," states Jonas Levasseur, Vice President of Operations. "Our team has maintained great focus to ensure that we are utilizing the most up-to-date technologies and coding practices for our clients. The web world is always evolving and we take pride in learning and adjusting to emerging web tools."
Awwwards is a website to discover, recognize, and promote the talent and effort of web designers and developers around the world. The evaluation system is based on 4 criteria — Design, Creativity, Usability and Content– with a ranking system from 1 to 10. Only those websites that receive a score of over 6.5 are recognized in the Honorable Mentions section.
About Hall
Hall is a globally recognized, data driven, digital agency that focuses on Search Engine Optimization, Technical SEO for Retailers, Paid Search Marketing, Digital Advertising and Retargeting, Web Analytics, User Experience Optimization, Email Marketing and the design and development of WordPress and WooCommerce websites.