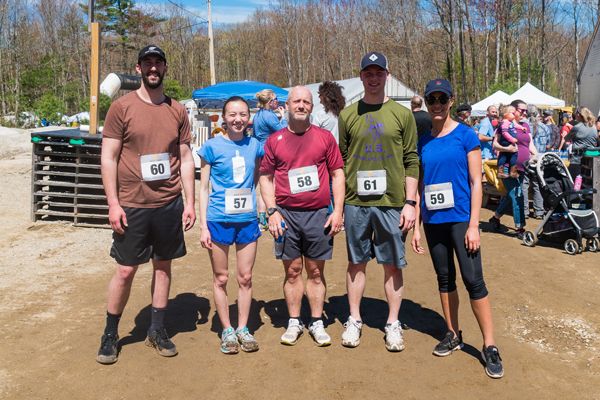 Lyman, Maine – Five employees from Hall participated in the Funky Bow Trail Hop 5K, a race through the woods of Lyman, Maine, that ended with a celebration and craft fair at the Funky Bow Brewery. Money raised from the event benefited the Center for Grieving Children. Company President, Tom Hall, SEO Specialist, Olivia Nishi, Paid Search Marketer, Will Bouchard, Client Account Representative, Vanessa Ricks, and WordPress Developer, Tim Suellentrop, all finished the race.
"It was a beautiful day to race and a great way to get involved in the community. We were happy we could support the Center for Grieving Children and had a blast out on the trails," said Nishi.
Hall, a five-time Best Places to Work in Maine recipient, encourages employees to stay active, form teams with their coworkers, and participate in community events.
About the Center for Grieving Children
Since its founding in 1987, the Center for Grieving Children has served more than 66,000 children, teens, and their families through peer support, outreach, and education. For more information on the organization based out of Portland, ME, visit http://www.cgcmaine.org/.
About Hall
Hall is a globally recognized, data-driven, digital agency that focuses on search engine optimization, technical SEO for retailers, paid search marketing, digital advertising and retargeting, web analytics, user experience optimization, and email marketing. The company is a verified WooExpert—recognized among the top WooCommerce developers in the world. Hall has been involved with WordPress and WooCommerce and has passionately contributed to WordPress for over a decade.