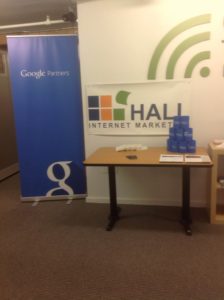 Portland, Maine – Hall Internet Marketing, Maine's largest fully interactive marketing agency is pleased to announce its recent sponsorship in an exclusive Google Partners Connect Event at the Casco Bay Technology Hub.  As a Google Partner company, Hall also had several Google Analytics Qualified and Google AdWords certified team members at the event to answer any additional questions attendees may have had after the presentation.
"As a representative of both Hall Internet Marketing and the Casco Bay Tech Hub, I couldn't have been happier that we could put on this event for the public, states Marc Breglio, Paid Search Manager and Executive Director at the Tech Hub. "We want to see Portland grow, and we were glad we could give the community access to learn directly from Google and Google's local partners."
The event was broadcast live with a panel of Google experts including Arjan Dijk VP, Global Business Marketing, Fred Vallaeys, Google AdWords Evangelist, and Ben Wood, Director of Channel Sales Americas. This free event brought in a wide variety of small business owners, entrepreneurs and other organizations eager to learn more about how to manage and grow their small business online.
About Hall
Hall is a globally recognized, data driven, digital agency that focuses on Search Engine Optimization, Technical SEO for Retailers, Paid Search Marketing, Digital Advertising and Retargeting, Web Analytics, User Experience Optimization, Email Marketing and the design and development of WordPress and WooCommerce websites.