While brushing my teeth this morning, I got to thinking about this blog post I have been meaning to write regarding AdWords Express and the role local search has played in the last year for the service based industry. Dentists in particular rely on many old school ways to retain business aka: word of mouth (pun totally intended). One challenge many dental hygienists face is gaining new patients who may not have any clue where to begin looking for a new dentist if they had just moved into the area. Thus the beautiful world of local search and PPC comes into play.
Now, unless you live in a very small town, chances are there will be multiple dentists all competing to take a look at your molars. The larger the population, the more teeth in need there will be, meaning more competition. Today I decided to take a look at Bangor, Maine as a case study for the AdWords Express conversation.
If you type "dentist in Bangor Maine" into Google, this is what you can find for the SERP page: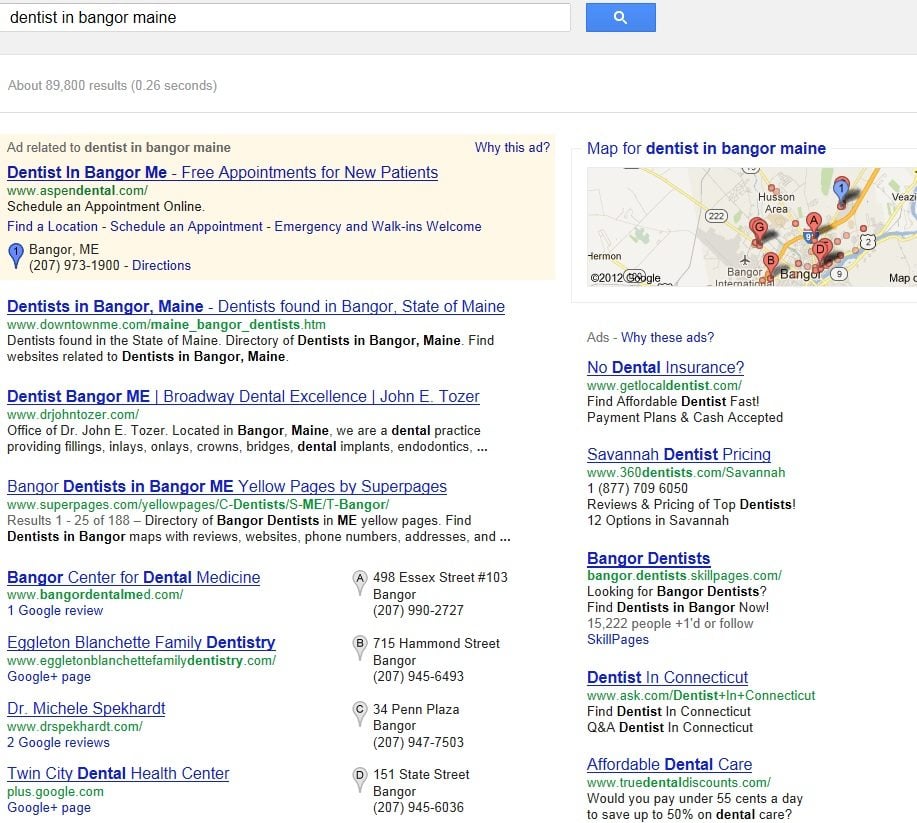 Taking a look at the market, I found 110 listings for dentists in Bangor Maine, and what you see here is just the competitive 8 businesses who have made it a priority to be found in local search on page 1. Looking at the SERP we can see that there is one PPC advertisement at the very top in the yellow box which features a blue #1 balloon. That blue balloon you see featured is a successful execution of an AdWords Express Ad. Take a closer look at this map:

The AdWords Express balloon is in such close proximity to their competitor in the 3rd "C" spot that they completely cover up their direct competitor! That is a very attractive service to be able to take part in, especially if you have been unable to get in the 7 pack for a period of time. The additional advantage is the sneaky incognito way that your business can be so easily represented in the SERP's and Google Maps. AdWords Express appears to be already part of the top results organically.
Here is a short video by Google that shows the small business advantage of using AdWords Express:
View full video on YouTube here
The pro's to using AdWords Express:
It is a simplified, easier version of AdWords without the confusion headache if you have no idea how to handle a full AdWords campaign. Google breaks everything down into 5 simple steps of information, and even a proposed budget is calculated for you.
AdWords Express helps businesses become featured in Google Maps which highly benefits businesses to capture potential customers using mobile devices.
If you do not have a website and have a small marketing budget, you can use AdWords express as your internet marketing platform and drive traffic to your business through your Google Places/ Google+ account. The minimum budget is only $50 per month. You just need a mailing address to participate – although it can remain private if need be.
The Cons to using AdWords Express:
Perhaps too simplified for many businesses. If you are looking to calculate your ROI and harness complete control over exactly who will click your ad and where, then AdWords Express may not be for you. Testing capabilities are extremely limited.
If you have any further questions on the AdWords Express program feel free to contact me or leave a comment below.