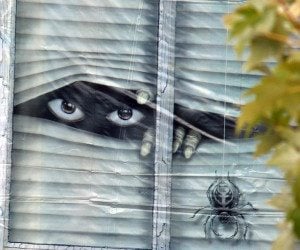 Here is a thought for you this Halloween eve. Ever get that feeling that you're being watched? It's a creepy feeling for most people and in our business someone almost always is. Online search marketing has quickly become a dog-eat-dog world, with everyone trying to "one up" each other for placement. Your competition is using all of the tools at their disposal, shouldn't you?
Try to put yourself in the shoes of a startup company in your business sector. What's the first thing you would do when looking into creating a website? Search your industry for related products and see what others are offering in your space. You might even go deeper and test out various keywords to get a broader sense of what you're up against.
The most common requests we receive are, "we want to be #1 for Keyword X" and "I want to place higher than Company Y in search." While striving for #1 for any keyword is the ultimate goal, the reality is that it's extremely difficult to rank for a specific keyword for a short period of time, never mind a lengthy stretch.
That's not to say it can't be done. We have had clients rank highly for top keywords for long periods, but as the web world grows larger and more complex by the day, fluctuations are naturally going to happen. Especially if your competition is doing their due diligence and trying to compete in your search sector.
At the same time, you shouldn't pigeon hole yourself into one specific keyword or key term. People search for various versions of keywords and related services, so try cast a large net with complimentary keywords and terms to help bolster various areas. Using a Google Analytics Qualified Individual to help with discovery and research into which keywords are being used to access your site is the best resource to have for ongoing adjustments.
5 SEO Marketing Tips for Staying Ahead of Your Competition:
Embrace Being Watched – As I've lined out above, embrace the fact that your competition is trying to beat you. Your online marketing plan should always involve incremental steps and planning for improvement and growth, but always leave in some room for some flexibility and discovery of recent activity in your sector. Planning out a few steps ahead of time will help with specific goals and ultimately sustained or improved search results. Plus, being targeted must mean you're doing something right.
The Web is Very Transparent – One of the benefits and pitfalls of website marketing is that developers and marketing experts (with some technical knowledge) can see  virtually everything you are doing from your code, styling, and marketing perspective. This is why being highly active, informative, and proactive on your website is so important in keeping you ahead of your peers.
Stay Active on Social Media and Blogs – Social media is one of the newest marketing sectors and we are starting to see its effect in search and rankings. Social media and blogging are some of the few direct links to your clients or client base, so we recommend being as active as possible. That doesn't mean simply making updates or posts to create noise, but providing useful information, stories, links that are associated to your industry, and opinions on latest news and technology. This is especially important if you don't have a company blog. Don't forget to add links from your social media outlets and blog posts to the information pages on your website, as it will help generate quality traffic as well as bolster your referral traffic.
Provide Information and Expertise – In addition to your social media interactions and blogging, always try to make sure the content on your site is as informative as possible. Working with an SEO Marketing Team to help plan out content expansion (and keyword expansion) will offer many benefits from a search marketing perspective, but in the end you want your users to understand why you are an expert in your field. It's always easier to convert a user to a client if they are well informed on what problems you can solve for them.
Proactive Optimization in an Ever Changing Environment – Here are a couple of facts about the web: it's always changing and search engines love new content. Not too complicated, right? For the most part, no, but only if you have a proactive optimization plan of data review and ongoing adjustment. Day to day, week to week, and month to month there are going to be fluctuations in search results for every keyword, search term, and interaction. Being proactive rather than reactionary will help Search Engines determine that you are an expert in your field and you provide a bunch of constantly revised content.
As a final note, remember that you work in this industry every day and in the end, you are an expert on what you do. Conveying that to your audience is a big part of that, especially if a web user has the option to view your site or your competitions website. The more informative, proactive and up to date option will almost always attract a better client, so don't lose out on that possible business relationship because you simply weren't active enough and your competition was.