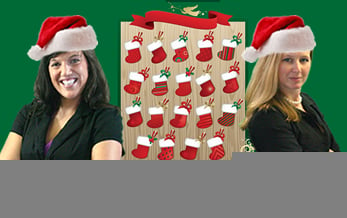 This is an entry in our daily Internet Marketing Advent Calendar series. Each day your favorite marketing elves Kasi and Amanda will focus on a new topic to get your internet marketing in order before the start of the new year.
Title Tags: The Most Important Element
You've got your website  perfected and you're ready to roll… but have you checked the title tags on each of your pages?  These are one of the most important on-page SEO elements and are often overlooked.  I can't tell you how many times I've see the titles of websites' homepages as "Home", which does not tell search engines what your site is about.  Use your title tags  to convey two or three keywords that reflect the content on each one of your pages.  As each of your web pages is different, your title tags should be different as well.
How Long?
This question comes up a lot.  Although there is no exact "right" answer, the widely accepted standard for title tag length is 5-12 words, or 65 characters.
Should I Use My Business Name in the Title Tags?
There are some experts that believe using a company name in the title tag is good for branding purposes, and others that advise against doing it.  I also advise against it.  It's not very often that a company would be competing in search engines for its own name, and I would rather use the space for keyword targeting.
I Already Have My Title Tags Optimized
It never hurts to revisit the title tags on your site every now again, especially if you've changed your content.  The title tags that you were using before a content re-write may no longer be targeted to your new focus.
You can read more about title tags in a post on the always-informative High Rankings blog.
Read the rest of the Internet Marketing Advent Calendar