The Discovery ads concept was first introduced at Google Marketing Live in 2019, and these ad formats are now available to advertisers. The native ad format is visually rich, and targeting is powered by user intent instead of keywords. Google uses past site visits, app downloads, video views, and map searches to derive targeting signals for the user, very similar to the signals it uses for in-market audiences.
How do they work?
Discovery ads can only be created in a Discovery campaign, and the ad assets consist of headlines, descriptions, images, logos, and a destination URL. Advertisers can choose either single image ads or carousel style ads. Google uses machine learning to deliver the optimal combination of assets it believes the user will engage with, similar (in a sense) to the way that responsive search ads are served.
The interactivity of the ads are similar to Facebook carousel ads, with the objective being to increase interest in the product or service with each swipe of the image. Consumers are in "discovery" mode, so the visuals need to be well orchestrated. With a focus on delivering the right message at the right time, creative guidelines call for aesthetic appeal and professional appearance in addition to promotion relevance and overall effectiveness.
Where will Discovery ads appear?
Discovery ads are eligible to run on YouTube's mobile home feed, Gmail promotions and social tabs, and the Google Discovery feed. The Google Discovery feed, formerly known as Google Feed, is available on mobile devices and uses machine learning algorithms to populate the feed. The more a user interacts with items in the feed, the more it enables Google to learn about the user, tailoring items for the feed based on user behavior and interests.
You're beginning to see why the ads are referred to as "Discovery" ads, right? Instead of focusing on search intent, the ads are focused on the journey. The placement of these ads is directly influenced by the topics that users display active interest in. Visual formats easily attract top of the funnel consumers, in the same sense that a display ad does. Unlike display ads, however, Discovery ads do not use website placements for targeting.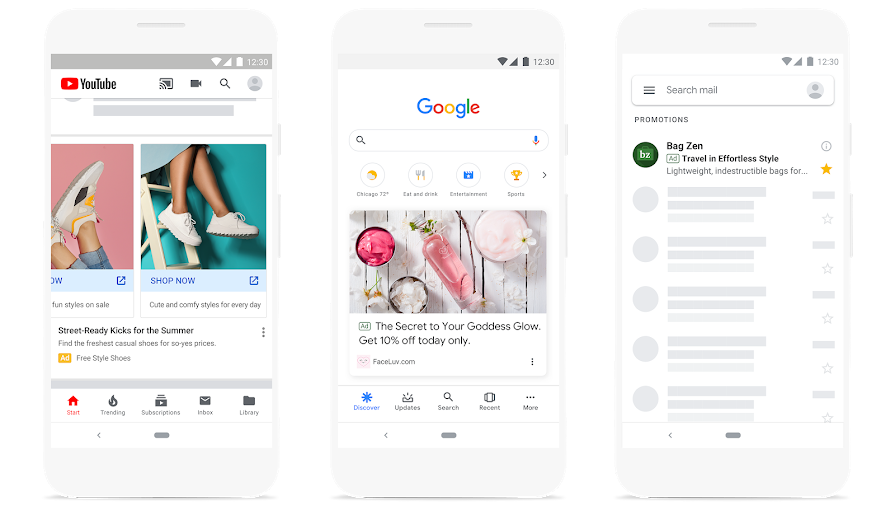 What control do I have over settings?
Bidding for Discovery campaigns is limited to automated strategies, either Maximize Conversions or Target CPA, with a goal of delivering optimal performance based on bid, budget, and marketing objective.
Other setting adjustments not supported by this campaign type include:
Delivery method
Device targeting
Placement targeting (including exclusions)
Frequency capping
Ad rotation
Contextual targeting
Conclusion
The idea behind Google's Discovery ads is to inspire customers to engage with an ad that has a visually appealing format. Pairing the power of AI with a personalized "Discover" feed, Google helps generate demand for your products and services from consumers that are likely to be interested. Adept audience targeting combined with strong, persuasive creative makes Discovery ads a great tool for brand awareness. If you need help getting your brand in front of a large pool of prospective customers, give Hall a call — we're here to help!