In honor of Bing turning five this week, let's take a peek back in time and view the various changes the search engine's home page has undergone over the years. If you're not familiar with Archive.org, otherwise known as the Internet Archive Wayback Machine, it's a great resource if you'd like to review the different stages of websites (and other digital media) over time. They provide other resources as well, as outlined in the following excerpt from their About Us page:
The Internet Archive is a 501(c)(3) non-profit that was founded to build an Internet library. Its purposes include offering permanent access for researchers, historians, scholars, people with disabilities, and the general public to historical collections that exist in digital format.
https://archive.org/about/

(Please note that some background or supporting images may be missing from some of the screen captures below)
The basic layout of the Bing home page didn't change much for three years until they released the wider, interactive layout in June of 2012. Speculation is that this new layout was supposed to launch on the third birthday but it didn't happen until on or around the 16th of June, 2012.
Bing Launch: June 2009
Key Features:
Approximate dimensions: 956px x 580px
Simplified layout
Left navigation panel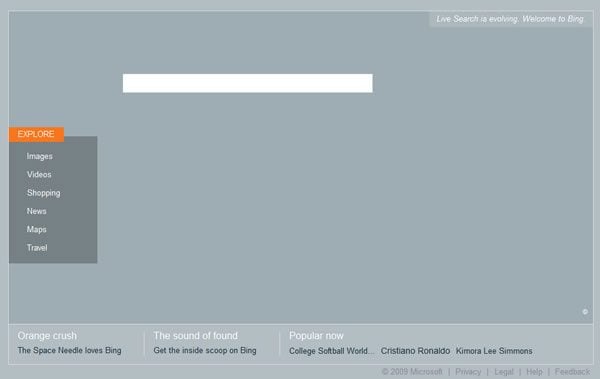 Bing: June 2010
Key Features:
Approximate dimensions: 956px x 580px
Simplified layout
Left navigation panel
Orange square added for search submit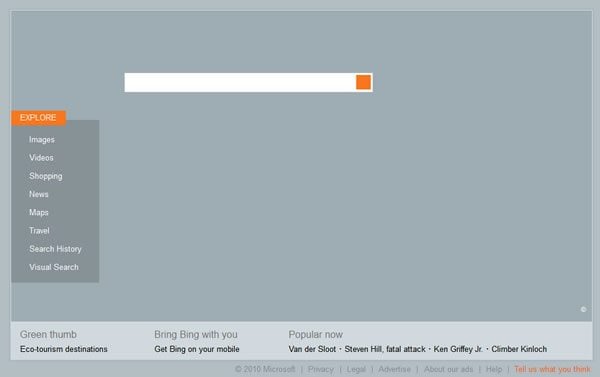 Bing: June 2011
Key Features:
Approximate dimensions: 956px x 580px
Simplified layout
Left navigation panel (Explore is removed)
Orange square still present for search submit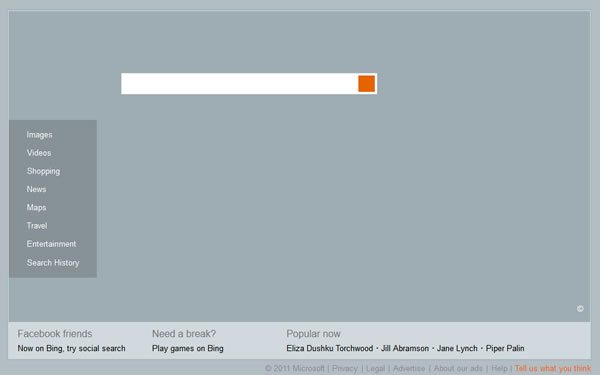 Bing: June 2012
Key Features:
Approximate dimensions: 956px x 580px
Simplified layout
Left navigation panel is removed
Menu items put above search bar
Orange square still present for search submit
Show All and Only from Canada search options added below search bar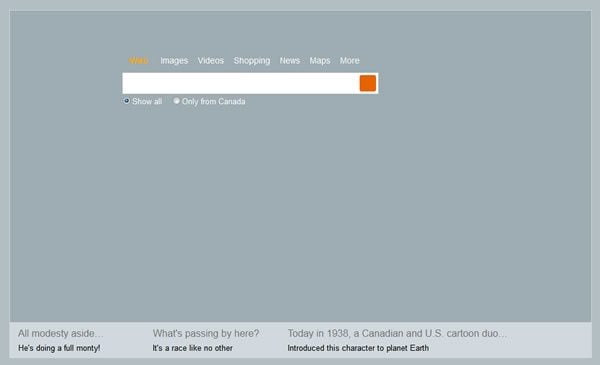 Bing: June 2012
Key Features:
Approximate dimensions: 1370px x 700px
New design-centric layout with full wallpaper style
Menu items put above content area, top left
Orange square removed for search submit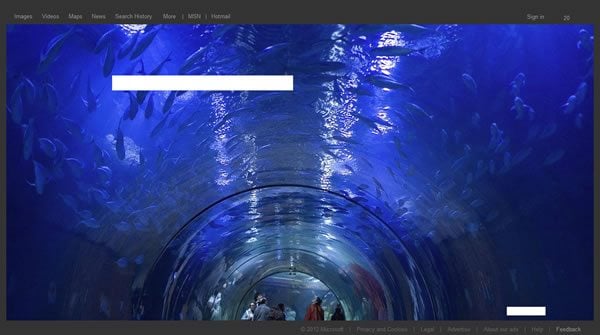 Bing: June 2013
Key Features:
Approximate dimensions: 1370px x 700px
Continues with design-centric layout with full wallpaper style
Orange magnifying glass icon added for search submit
Updated Bing logo is added to left of search field
Live tiles blink with information related to the background image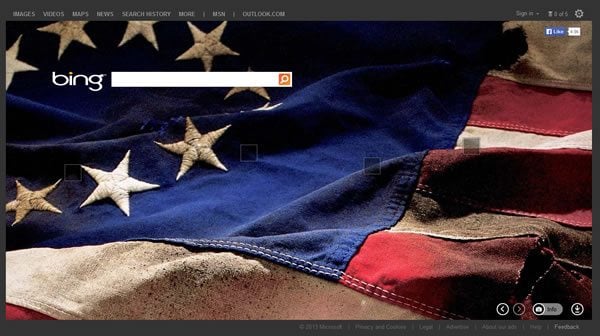 Bing: June 2014
Key Features:
Approximate dimensions: 1370px x 700px
Continues with design-centric layout with full wallpaper style
Orange magnifying glass icon added for search submit
Updated Bing logo is added to left of search field
Live tiles blink with information related to the background image