Since it's nearly back-to-school time, I thought I would throw a little fun your way before the summer winds down.  Google originally launched Google Insights for Search last year, but they just took it up a notch by adding a forecasting feature, an animated map, and expanded its availability to 39 languages.
If you don't think search data is as fun as I do, you can just look at the pretty pictures.
Interest Over Time
Google has search data for search queries as far back as 2004, and you can play with various time frames, such as 2004 to present, the last 7 days, etc.  This is what the search term "social media" looks like as far back as 2004 up until today: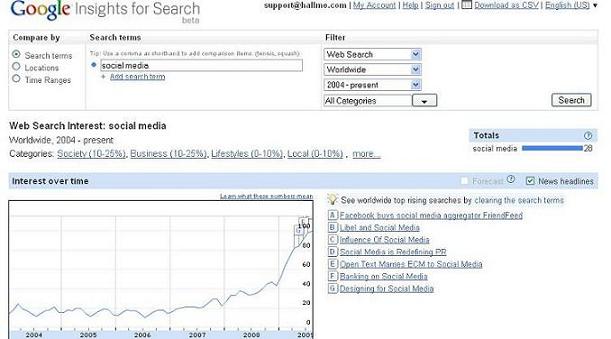 Clearly, searches for the term "social media" have exploded world-wide this year.  According to Google, "the numbers on the graph reflect how many searches have been done for a particular term, relative to the total number of searches done on Google over time. They don't represent absolute search volume numbers, because the data is normalized and presented on a scale from 0-100."  You can also see to the right of a graph that you can opt to see news headlines related to the keyword.  How very relevant of you, Google!
Forecasting
Another feature that Google Insights has to offer is that it can "forecast" the trend of a search term.  For more obscure terms, or terms where there isn't enough data, forecasting is unavailable (as it is for "social media").  However, for a term like "SEO", here is the prediction: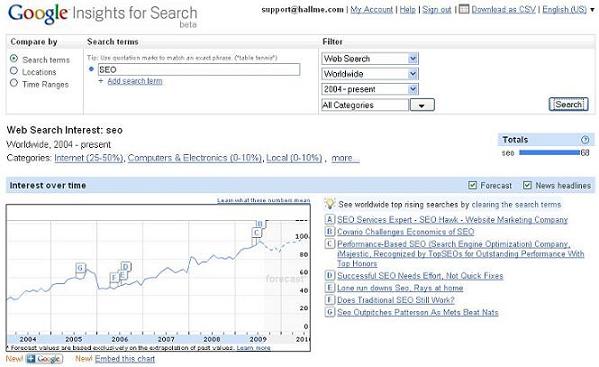 Google shows that searches for the term will dip a bit at the end of this year, but it trends back up in 2010.
Regional Interest
Google also shows you the search term's popularity by region.  You can select a country from the filter at the top, or select worldwide.  Here are the results for "SEO":

Wow- India is the top country searching "SEO".  You can also click on each individual country and it will be broken down for you further by region within that country.  The map will animate for you when you click to "view change over time" and it shows the changes to the map through the time period you selected.  So cool!  (Look, it doesn't take much to impress me, OK?)
Search Terms
Probably the most valuable part for me in terms of SEO is the Search Terms section:

"Top Searches" lists the related terms to the one you entered.  Google "determines relativity by examining searches that have been conducted by a large group of users preceding the search term you've entered, as well as after."  "Rising Searches" shows terms that have experienced significant growth, related to the keyword you entered based on contextual matching.  Clicking on the terms in either of these two columns will change your entire data set completely, based on the term you clicked on.  It's a nice little snapshot of what people are searching for in relation to the keywords you are researching.
Have you tried it out?  Do you find it useful when testing out your keywords?  Let me know what you think!