If you are running ad campaigns through LinkedIn and are sending users to your website, you are going to want to view success metrics on a marketing analytics platform such as Google Analytics. Google Analytics utilizes UTM parameters on urls to track user sessions on your website. You are going to need to tag your landing page url with the correct UTM parameters in order for data to start collecting in Google Analytics.
If you don't yet have an understanding of setting up Custom Campaigns and using UTM parameters, start by learning about them directly from Google here, and also check out the Custom Campaign URL Builder.
UTM Parameters for LinkedIn Ads:
Once you understand Custom Campaigns and UTM codes, you can use the URL Builder to create your url for tracking. For LinkedIn Ads you will generally be using Source, Medium, Campaign, and Content (if you are testing multiple ad versions, which you should be) inputs. In most cases the Term parameter is not used, but you can use it as an extra parameter if you have additional custom parameters you want to track. Below, you will find the most common UTM parameters for use with LinkedIn Ads.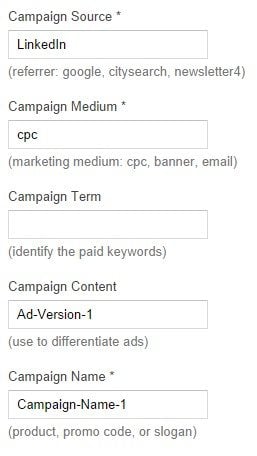 Source: LinkedIn
Medium: cpc
Campaign: Campaign-Name-1

The campaign can be given any name that makes the most sense for your account, and in most cases should match your campaign name that you use within LinkedIn Ads.

Content: Ad-Version-1

The Content parameter should be used to track different ad versions if you are testing two ads within a campaign (different images, copy, etc.). You can name them whatever makes most sense for your campaign.
Note: It's best to use dashes (-) or underscores (_) to replace spaces between words.
Using our homepage url as an example for a landing page, the final URL with the tracking parameters will be: www.hallme.com/?utm_source=LinkedIn&utm_medium=cpc&utm_content=Ad-Version-1&utm_campaign=Campaign-Name-1
Once you have your landing page URLs built out with the correct parameters, you can insert them in to each of their respective ad versions within LinkedIn Ads. The complete URL is not displayed in a live ad on LinkedIn, so you do not need to worry about it negatively affecting the appearance of your live ads.