The Google Display Network (GDN) is considered by many to be the #1 global display ad network, "reaching over 90% of internet users worldwide, with more than a trillion impressions served to over 1 billion users every month," according to Google. The GDN has a multitude of ad formats and sizes – the main focus being image ads. In terms of the actual design/build of the image ads themselves, Google doesn't require any extra coding or tags to be integrated in to the image. Once in the ad system, the GDN takes care of those details for you. As a designer, simply follow the file size, file type and dimensions outlined below. The outlined dimensions are the majority of the sizes you will want to start using. You can choose to only upload a single dimension or the top performers (listed below), but in order to maximize your reach and up your chances of showing on the specific placement you are hoping to reach, you should build out your creative across all the ad sizes.
Once you have your ads designed, the real key to the GDN is making sense of the networks' massive reach and tweaking it to target a highly relevant audience to meet your advertising goals. Start with the design of your ads, and then work on learning about targeting your ads across the various placements and demographics. Stay tuned to our blog and webinars to learn more about using the Google Display Network. Get a jump on ad targeting by viewing our free webinar: The Basics of Google Display Ad Targeting
In the below infographic, created by Caitlin Frank, you will find a full list of display ad sizes and specific size and file type regulations. The top performing ad sizes consist of the medium rectangle, large rectangle, leaderboard and wide skyscraper. These all tend to have more ad inventory available from advertisers, so when both text and image ads are enabled, earnings can be increased.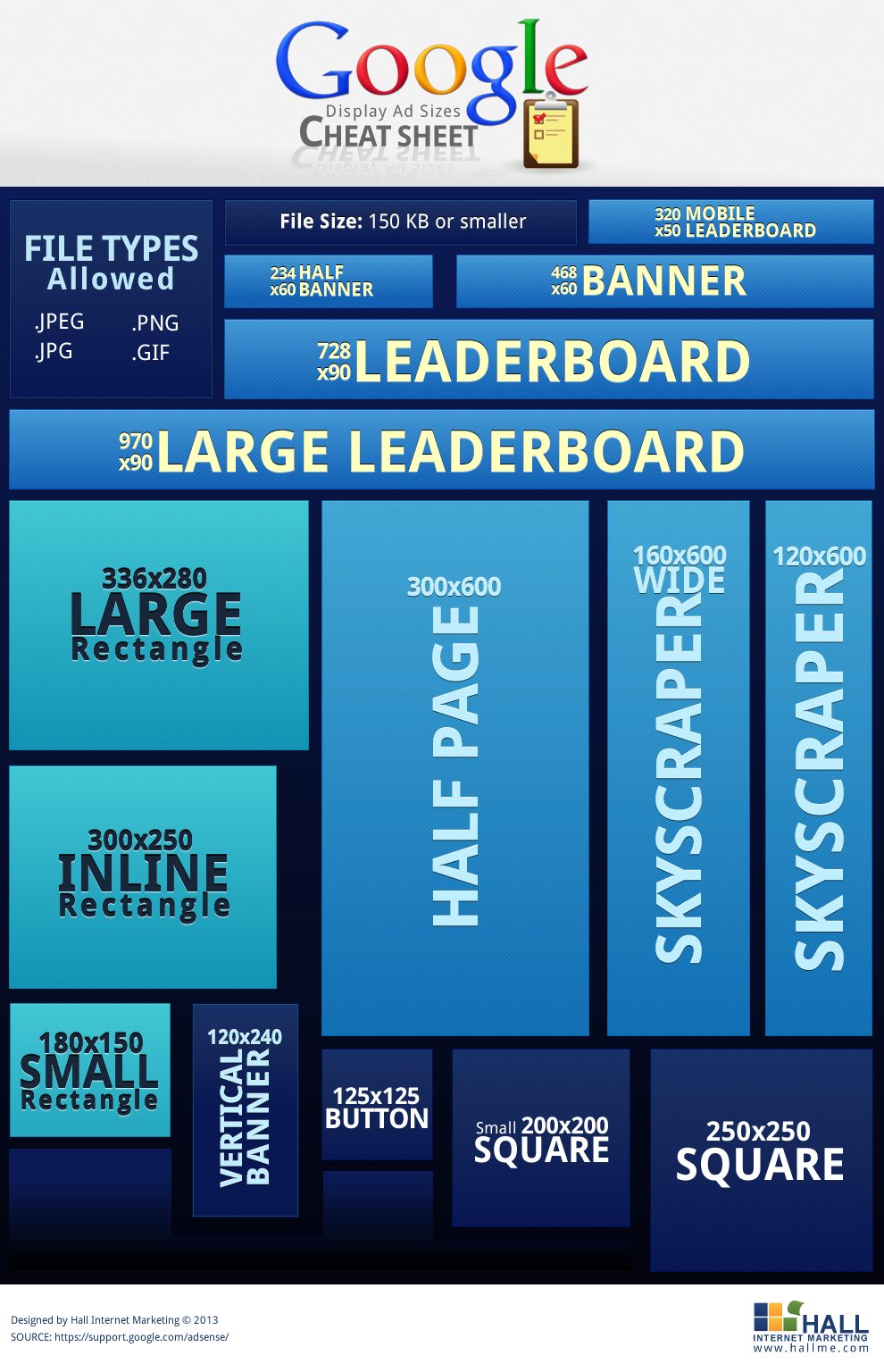 Hall Internet Marketing – Google Display Ad Sizes Cheat Sheet
You can embed this infographic on your blog or website: