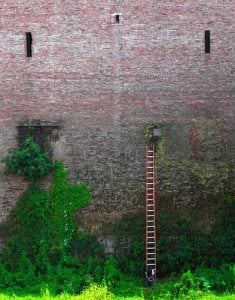 Photo credit:
Hannibal Poenaru
Short version of the answer:
You do what you can and what you have been doing. You build relationships and get your content out there. Read this post from Copyblogger.
Longer version:
I just read an interesting post from Copyblogger about the flip flop from Google on whether or not they use social media sites to influence their search results. Originally we heard links from social media sites do not influence search rankings because of the 'nofollow' links that take away all the 'search juice'. Now, like many of us suspected, we hear that social media sites are a small factor.
Why wouldn't they be a factor?
They wouldn't be a factor because that opens the door to people trying to spam and trick search engines by regularly linking back to just their content. If you opened 10 Twitter accounts, each account had one follower and you used all 10 to constantly link to yourself – should that count as 10 inbound links? No. As we know, inbound links are one of the best things you can get for your website to do better in search engines. People linking to your site tells search engines that you are an authority.
As mentioned in the Copyblogger article, Google recognizes that social media profiles can highlight who the influencers are and that can help them perform more accurate search results. If a very popular and engaging Twitterer continues to link to your blog, you should get some credit for that.
So how can we use this to rank better?
My advice is to keep doing what you can. We, here at Hall, are a small, fast paced company. Besides the tweeting and Facebooking we have lots and lots of 'actual work' to do, like most small businesses. We also need to build a reputation so people trust us and come to us when they need our services. We also need to form relationships with thought leaders, industry leaders and current and future business partners.
We put out a lot of content! Multiple blogs a week, tweets, Facebook posts, free weekly webinars, public speaking engagements, videos etc. and each one (I mean each one) has thought, research, expertise and the good intention to teach people behind it.
Do I think we put out better content than lots of other people? Of course! Do I think we form our opinion from our expertise and not from another person's thoughts, blogs or books? I sure do. Are we marketing it perfectly? Absolutely not, but we are doing what we can.
People know what they can count on us for, people refer to our content for their business, to help a client of their own and to share. We refer our content when people ask us a question, want to know more about our company or need more information. Slowly this will build in a holistic way. You can't force your content, you really shouldn't try to scam Google (or anyone actually) so just keep doing what you are doing. Get better at it. Find what works and what doesn't for you, your routine, your staff, your website and your search results.
It is good to hear that Google is using social media as a point they measure but they use hundreds of data points, that is just one. It shouldn't drastically change your game plan.