While the ultimate goal for any email marketer is to grow their lists, there often comes a time when there is a need to unsubscribe contacts. Luckily, most Email Service Providers (ESPs) provide an easy function for importing contacts with the sole purpose of unsubscribing them so that they do not receive your communications. Whether they opted out on their own, or whether they were hard bounced or simply didn't exist in the first place. Constant Contact has such a feature, but if your account is based on the latest user interface, you may have some trouble finding this feature. In the older interface, if you have navigated to the Contacts dashboard and selected a list, you'll have options similar to the graphic below. These options include the ability to Remove, Unsubscribe (Do Not Mail), Move or Copy selected contacts. Fairly simple and straight forward.

In order to accomplish this same task when using the new user interface within Constant Contact, there is a required step that needs to be enabled before you even have the option for unsubscribing a contact. When first logged in, you'll want to navigate to the main Settings tab in the upper right navigation area. Once here, you'll be shown various options for optimizing your Constant Contact account. The fourth option down the page is Contact Settings. If the option for "Enable advanced email permissions" is not set, check the box and save.

Once this feature has been enabled, return to your Contacts dashboard. When you click on the Add Contacts button, you'll see a new option for importing contacts called "Add unsubscribed from file".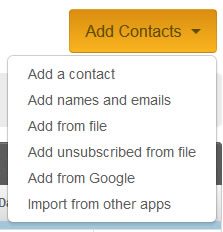 This is a great way to manage lists when more than a few contacts need to be removed from your whole account. My only concern with this latest UI change is why such an integral piece of email marketing would be hidden by default? Like the older UI, features like this should be clear, concise and easy to find.