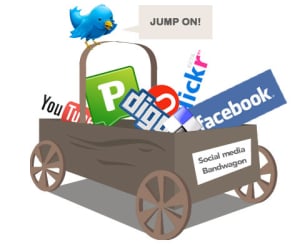 We hear a lot on why your business needs to be participating in social media. Facebook, Twitter, Instagram, LinkedIn, Google+, Pinterest, YouTube — if you listen to all the social media experts out there, you need them all. But of all the social networking components – all of your posts, content, and videos, know what is most important to your business and to generating money from these efforts?
Your website!
All of your photos, posts, fans, followers, videos, retweets, likes, pluses and klout – are all on rented land. As many brands have seen, the terms of those rented leases can change. Facebook's algorithm (or PageRank) has shifted what it displays and to whom, causing many brands to be left in the dust. Page engagement and website traffic from Facebook plummeted for businesses.
In your internet marketing, you own two things: your website and your email list. As Christopher S. Penn adeptly states, your social media accounts are like those large billboards you see on the side of the highway. In his example, the billboard tells you about restaurants that are coming up on your drive. If you are hungry, this is your information on selections you have coming down the road. But while the billboard provides you with information, it is ultimately up to the restaurant to follow through and deliver the meal.
"The billboard told you when the restaurant of choice was coming up and directed you to get to it, but you don't eat there." In his analogy, your website is the restaurant advertised in the billboard. "Abandoning or neglecting your website would be like having the greatest billboards on the highway and no restaurant for diners to patronize."
So as your online billboards direct people to understand why you are the best choice, you can't let your website's appearance and content slip to the wayside.
So how can you prepare your website for the fruits of your social media labor?
Have a consistent look and feel from your social media profiles and your website – If people come to your site from one of your other channels, you don't want them to feel like they landed on another planet. Make your branding consistent from channel to channel.
Have a regular tone, verbiage and feel from social media to your site – Just like the look and feel from above, you want your tone and language to be consistent too. If your tone on social media is friendly and jovial and then on your site it is technical and complex, you may have lost interest in the audience you just attracted.
Highlight testimonials and your customers on your site – What makes social media tick is the weight on your peers, their doings and their opinions. You are on those networks because your friends are, so why not make sure your site highlights those same values too. Adding testimonials and reviews to key areas of your site is social proof that your products, services and staff are validated against your peers.
On every page of your site, have a next desired action and clear path for a new visitor –What is the end goal for your business for each website visitor? What is the path for them to complete that goal? What draws a visitor further and further into your site or to become a sale or conversion? Make that path to conversion determination and on each page have a call to action to move someone further down that path.
Social media is a great tool for business but we need to remember that tool is on rented land. Social media should be used for marketing to get people to your site (or email list). Use it to let people get to know your business better. Use it to show people how you will make their lives easier. Do not forget about your website though. Your website is your home base for all your online marketing and your website will be what makes the sale or converts the new customer, not social media.