Reaching Baby Boomers Online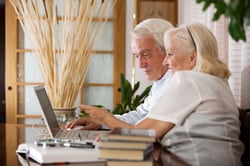 A question I get often is people concerned about their target demographic not being online, for example Baby Boomers. We all know Baby Boomers are one of the most powerful demographic groups and with traditional marketing suffering everyone is so excited about the popular and inexpensive online marketing and social network marketing options.
With all the fuss about the biggest content producers being a small portion of the online population. That must mean my target demo of Baby Boomers aren't online right?
Nope – Boomers are online reading, researching, sharing content every day.
Great quote from Matthew Lees, Vice President, Analyst, Patricia Seybold Group:
"Boomers are a natural fit for social networks and technologies. They have the time, the life experience, and–more and more these days–the need for social tools to help them accomplish their own goals."
Here is some great info on Boomers participation online and my comments on each. Info provided by MediaPost
Online boomers were more likely to send or receive e-mail on a given day: 54% versus 49% of younger Americans who are wired. Perhaps as younger generations are BBMing, Texting, IMing, Facebook mailing, posting on each others walls – Boomers are sticking to email. Email is convenient, easy to use, you can participate on your own watch. Email marketing is holding on strong and perhaps a well targeted email marketing campaign could be just what the doctor ordered! Want to know what social networks your Boomers are participating in? Ask them in your emails or online forms. Speak to your audience and deliver content they want and you should be set for success.
About 66% of online Boomers have looked up health information online, compared with 54% for younger users.
Boomers were more likely to visit online support groups for specific medical conditions and personal situations: 55% versus 36%. Boomers are tuned in. Even if they aren't producing as much content (yet) they are locked and loaded and looking for more information on the subjects that interest them more. Marketing power has shifted to buyers and potential consumers are researching products and services before they make purchasing decisions.
Half of online Boomers have used the Internet for financial information, compared with 28% for the younger group. Boomers are powerful – they have income, are educated and make up one of the largest portions of our population. They have been around the block, been duped before and are careful about their fiscal decisions. Social Media Marketing's strongest asset is the ability to build trust with consumers before the purchasing point.
My advice on reaching Boomers? We know they are reading the information maybe not writing the content but they ARE participating so much like any other marketing approach – create content that Boomers want to read, enjoy, share or comment on. Some obvious examples would be information about healthcare or medications.  But how about traveling options for boomers? Bird watching or nature blogs? Assisted living information for them or their parents? How to videos? Who knows specifically. Maybe ask your customers what they want to know more about. Like any buyer persona find out what your customers are looking for and provide them good quality content.