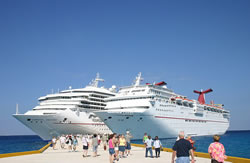 I just came back from a very special cruise. A few brilliant minds got together and invited some of the brightest minds in the social media/internet marketing space to go on a cruise/conference. We all met in Miami for a pre-conference Tweet-Up and then set sail. We traveled to Cozumel, Mexico and back. All the while attending sessions, having candid roundtable discussions and all around spending some serious time talking up what is happening in the social internet space, what we can do with it for businesses and what is coming down the pipe (oh and we had some fun too). It was a truly unique experience and we all left with our notepads and brains full.
One of the reasons the event went so well is we had a seasoned CruiseSource blogger traveling with us. Having that inside scoop with the best time to eat, how to get the best rooms, what to pack, how to navigate the boat made the whole experience so much smoother. We spent less time wandering around lost in hallways and more time enjoying what it was we came there to do. Thank you Rich!
This whole thing got me thinking… a question I get a lot is 'how do I, as a business owner/marketer/newbie/employee keep up with all this'. Everything happens so fast and there is no way you can read everything on the internet and you probably can't read everything that is out there about your industry either. So what do I recommend? Find an Internet Marketing Travel Agent!
An Internet Marketing Travel Agent?
Like the value Rich added to my experience, you don't have to know and read everything. Find someone else that does know the ins and outs and follow them. Just be able to form your own opinion and understand what they are saying. If they discuss something you want to know more about or you want to check a source… go for it! The key is to start with content producers that are in and around your niche and have those people be people you know and trust their opinion. This may take a little time and research to find the right people.
What to look for in an Internet Marketing Travel Agent
Look for people that share your values
Do research for people working specifically with your industry
Listen to what names you hear repeatedly in conferences, presentations, whitepapers, blogs
Are you a Twitter user? search.twitter.com (I like the advanced search myself) – search for industry terms and find who is talking about what you need to know and follow them
How do you subscribe to your Internet Marketing Travel Agent?
Follow them on Twitter – add them to a list or category labeled as an influencer
Connect with them on LinkedIn – look for their status updates, blogs, slideshare presentations etc.
Subscribe to their blog – either receive the blog in your email or subscribe to the RSS feed (I like to use Google reader)
Another tip: Keep your list of travel agents dynamic. Keep fazing people in and OUT. If someone isn't providing you the content you need then don't be afraid to subscribe to them on less channels or unsubscribe completely. Keep the clutter out and you will get more out of your agents. Like my experience last week, knowing Rich enabled me to skip the cruise clutter and really drill down on getting what I wanted out of my limited time with the other people at the conference. You will hopefully see the same results. Erase the clutter and stop trying to read absolutely everything. Subscribe to other people that matter and provide you with the information you want and will get the most value from.
Want a jump start? Here is a quick peek into a few of my Internet Travel Agents. I like hard facts, research and people I trust.
Hall Web Services (of course)
To make my brain swell – Chris Brogan
For real world applications and a business mindset – Amber Naslund
For writing and blogging – Copyblogger
For more email – Blue Sky Factory
For marketing and real business examples – David Meerman Scott
For Video and specific tips and tools – Steve Garfield

That's just a peek. There are a lot more. If you are mad you aren't on that list you probably are on my full list but I can't give away all my secrets.

So stop drowning yourself in content and find just some key people or companies to tune in to. You will free up your time and get back to finding the value you can apply to your company or brand. Anyone else have other tips on filtering out noise and keeping great content? I would love to hear them!

If you just want to look at some pictures from our geeky cruise look here and here are a few of mine.