A new year is here! What will the future hold? What crazy things will Facebook and Google do? What will be the next 'big' thing? How will development and technology change in just one year?
I am going to keep an eye on Flickr (and Yahoo!), they are making some changes and just redeveloped their mobile photo app. I also think Marissa Meyer, the new CEO, is super smart.
I also want to see how Medium plays out, the new publishing platform from the founders of Twitter. It seems so mysterious right now and no one can seem to explain it clearly yet. I wonder if it will be a flop or if it will change how people publish content online.
I am also generally just excited to see how technology improves, what new services appear this year and how businesses use them to grow!
What the Hall staff is going to keep an eye on in 2013
I decided to ask some of my colleagues what they were going to keep an eye on this year and this is what they had to say:
Marc Breglio – Search Marketer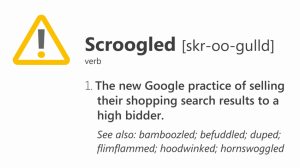 Google Shopping – Google ended free product listings as of fall of 2012. To be listed in Google Shopping, you must use the Adwords platform and pay per click now – Will this last? Bing is hardcore bashing Google for doing this and have coined the term Scroogled (see image). But, will other search engines follow? Will smaller stores/brands not be able to compete or will it prove to be beneficial for everyone? Either way, 2013 will be the testing year for this big change for e-commerce marketing.
Social media ads – The big social networks are growing up. They are no longer start-ups receiving loads of funding, working with teams that are too small, and just trying to grow their audience. Over the next few years they are going to need to start paying their bills. They will be paid with advertising. How will this shake out? What new ad options/developments will we see? Will some networks fail, not because they don't have a user base, but because they can't generate revenue?
Google Display Ads and other traditional digital ad networks competing with Social Media Ad options – Facebook, Twitter, LinkedIn, etc, are offering ad networks with precise user targeting that has never been seen before. Google has already shown changes that will help them compete (such as user interest category targeting for banner ads). How will the traditional ad networks begin to change the landscape even more to compete?
Tom Hall – President
I am going to keep an eye on coordinated mobile and social marketing programs, new and improved user targeting models and responsive design to meet not only devices but also to meet use cases where the site responds by changing content significantly.
Mike Johnston – Analytics Manager
I'm going to keep an eye on the switch from IPv4 (Internet Protocol version 4) to IPv6. Seems like it is slow to get going, but I have a feeling it will become more mainstream in the coming year once Europe officially runs out of IP addresses.
RC Lations – CMS Developer
CSS3 & HTML5 Canvas animations will continue to emerge as a replacement for Flash and bridge the gap between desktop displays and app-like animations.
Support for native gestures (touch gestures, accelerometer, compass, etc.) will become increasingly available in the browser, opening up the opportunity for websites and web apps to have even more of an "app-like" experience.
Dave MacElhiney – Director of Client Services
I am curious to see if the Instagram privacy blunder has any impact on the growth of the application.
The integration of all things web – I just fell in love with IFTTT. Let's you script all kinds of platform integrations… so I can set it up to send me a text if it is going to snow tomorrow or I can have all my Instagram photos save automatically to my Dropbox account.
I got a WeMo for Christmas and looking to do cool things here.
I also am anxious to see bigger and better UX designs for responsive mobile, tablet and desktop sites.
Andre McKay – Technical Search Analyst
I'm also curious to find out how many people abandoned the Instagram ship after the terms of service snafu last month….I know I did.
I'm interested to find out about the Myspace / TV integration that Timberlake leaked earlier this year…nothing really came of it.
And finally, did you hear they are talking about making it possible for you to email someone on Facebook if you aren't connected to them…for a fee?!? Crazy!?
Jess Wallace – Digital Marketing Analyst
Personally, I'm keeping an eye on MySpace – the new design is pretty slick and I think we'll see a lot of people shifting to it from Pandora and Spotify. It mashes social and music together in a really smart way. 'New' social networks have a hard time gaining traction because users have a hard time starting over somewhere when all of their 'people' are on Facebook, etc. (Ahem, Google+) But with MySpace, there's a different sort of value that makes it more attractive when it comes to adding another network. It's easier to justify.
I'm also interested to see how mobile search changes over the next year. As it continues to converge with local/social, I think it will pick up an even more rapid pace as tablet use grows and people start to rely on info on-the-go more than ever. Spoken by a girl who never thought she'd own a tablet – who now cannot put her iPad down.
---
So that is what our office is going to keep an eye on in 2013! What are you excited to see?