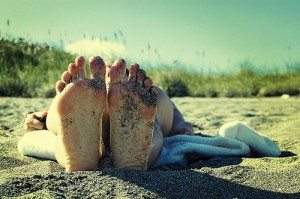 Photo Credit:
Andresit@
With all the wonderful out of season weather we have had lately in Maine (with the exception of today…) I think I am safe to say that summer weather has finally arrived! It is just about time to start hitting the beach and enjoying the sun. With all the vacations and beach days to come are you going to be neglecting your website? Will your content sit there with no updates, to be done "when I get back?" Coming up with a content strategy and sticking to it will help keep your website updated through the summer, and allow you to truly enjoy your days at the beach.
Get your Content Strategy in Order
Ideally, you should create a content strategy before beginning development on a new website. However it is never too late and is always beneficial to create one! Your plan will help you figure out what content you will be updating and who will be making the updates. Here are some things to think about when creating your content strategy:
What content will be updated?
Think about what pages you will be updating or adding new content to. Are there certain pages that you will need to edit regularly? Do you have a blog or news feed that you will need to post to? Make a list of what content needs to be updated and what you can leave on the site with little updates.
How often will content be updated?
If you have a blog or news feed then your content will need to be updated more often than if you just have informative pages. Keep in mind how often you think your visitors will be returning to view new content.
Who will be adding/editing content?
After looking at what you need to update and how often, will you need other people to be involved? Be honest with yourself so that you can keep up with the demands.
When will content be updated?
Finally, schedule the times that content will be updated. If you have content that will be updated daily then make time each day to do that. If you will be doing one big update a week then block that time out or just do a little work on the content each day.
Follow Your Plan
Once you have your content plan in place stick to it! Follow your strategy and update your site on a timely basis. If you find that you took on too much, then go back and revise your plan so that it works for you. Always keep your audience in mind and make sure that the content you provide and the frequency at which you provide it is beneficial and keeps people coming back!
Take Your Time off and Don't Worry About It!
If you know that you will be out often in the summer, keep in mind that not everyone else is on vacation. If you do not have anyone else to assign content writing to, then come up with some blog posts, promotions, or news before hand and schedule them to release while you are out. If this does not work out and people will notice that you are gone then make an announcement on your site. That way a site that is typically updated often will not leave visitors hanging with no excuse why. With a solid strategy in place (that is followed!) you can relax out of the office – worry free, knowing that your website is up to date!