Announced at Google I/O and launched shortly after, Google search results are now displaying podcasts that can be played directly from the search engine results page (SERPs). With this feature, popular podcast platforms may begin to feel the effects of SEO.
Will this new development become a battle between major podcast hosting platforms (Apple, Spotify, Stitcher) and Google due to increased conversion difficulty? With this update, Google continues its pattern of adding features intended to keep searchers on the results page, forcing those who wish to win a click to work smarter and harder.
The Look of Podcasts in SERPs
Now, when a podcast shows up in the SERPs, three of its latest episodes are visible. Once clicked, the episode will open up and play from podcasts.google.com, where one has the ability to fast forward and rewind.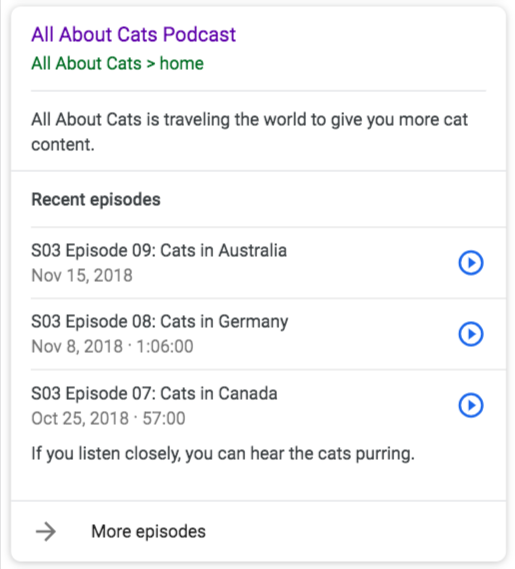 For more features, users are prompted to download the mobile app from Google Play, which allows Android users to search within the platform, save episodes, and download episodes for offline listening.
Structured Data for Visibility
Before podcasts were added to Google SERPs in this way, structured data was the primary way to improve a show's SEO. Rich results would increase a podcast's CTR and online presence while also making it more crawlable for search engines. Another way to improve a podcasts' visibility was to optimize its RSS feed.
The Implications of SEO on Podcasts
Will the new look of podcasts in SERPs have creators experimenting with the ways they can craft them for better search intent? More thought may be necessary when naming podcast episodes, and in turn, hosting platforms will work to ensure that podcast creators aren't keyword stuffing their episode titles. Additionally, with new podcast creation technology, it will be easier than ever to submit a transcript, which will provide search engines with a better understanding of podcast themes and content.
A New Age of Audio?
This new focus on audio could bring about the second wave of podcasters and people who'd like to be a part of audio optimization. With the launch of apps that simplify and streamline the creation process, podcasting is becoming more accessible than ever. Now could be the time to start recording.
There are a select set of guidelines in place to make sure that your podcast is included in Google Podcasts, but there is currently no information on how SEO for podcasts is determined or a set of best practices for podcasters to follow. We'll have to stay tuned to see how search visibility for audio continues to evolve.