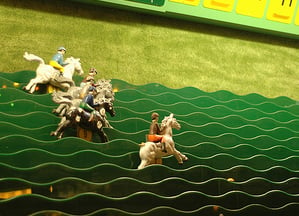 Photo credit: zappowbang
Holy smokes!  Yesterday was a whirlwind of internet news! Keeping up with any and all changes is trying sometimes, so what we like to do here at Hall is give a recap on any events that may have happened that could effect your internet marketing strategy. Let's get right into it:
Facebook purchases Friendfeed
The darling of social media aggregators, Friendfeed, has been snatched up (for a cool $50 million) by the most popular social networking site, Facebook. I am not going to go into the nity gritty too much because everyone else already has but there are a few things you should consider:
Friendfeed has become so popular because of its non-partisanship – all social networks were the same. With the partnership of Facebook and Friendfeed, will we see some favoritism shown in Facebook's general direction?
As we already know, Friendfeed is now a part of your Feedburner stats, measuring your blog subscribers. This change took some of us awhile to get used to.  With the merger, what could happen next? Could our Facebook friends count as subscribers too? Who knows.
Facebook's FriendFeed Acquisition Could Have Implications for Search. This comes at a time when Facebook is toying around with real-time search (perhaps to compete with Twitter). Friendfeed has real time – Facebook wants it – hmmm… Users could get quite accustomed to searching for products and services on social networks that they actively participate in instead of heading over to a search engine to enter their query.
Facebook branches out into Real Time Search
Facebook has struggled with Real Time search for sometime now. The popular social networking site Twitter has dominated in up to the second updates on friends statuses, news and events. Now Facebook is ready to be a contender. The official Facebook blog states "You now will be able to search the last 30 days of your News Feed for status updates, photos, links, videos and notes being shared by your friends and the Facebook Pages of which you're a fan." Read the full post here.
Some things of note for you:
Not comfortable with your Facebook content being search-able? You can change your account settings so that your content isn't open to everyone. Change or view your privacy settings here.
Facebook has over 250 million registered users. That is half as many people as Google gets per day but like I said above, with real time search functionality added to a site like Facebook that you are already an active member on, Google may feel a hit as fewer people leave Facebook to enter a search query.
If users are searching more and more for products, services and reviews right on Facebook, are you marketing yourself on Facebook? Should you be?
Google changing how it searches
Did you hear that? The needle scratching the record and silence… but yes, Google is changing the way that search is done, totally.  Not an algorithm change, but a complete rebuilding of their infrastructure. It is testing out the new search functionality publicly. What does this mean for you and your SEO? Kasi is going to tackle that question for you tomorrow morning but things will definitely be changing.
So, that is my very quick wrap up on all the news from yesterday in the realtime search, SEO and social media worlds. If you need to know more check out some of the links embedded in this post.