Web push notifications were first launched in 2015 in the Chrome browser, allowing websites to push out messages after a user had left the site. The innovation has since been adopted across many browsers, on both PC and MAC operating systems.
What are web push notifications?
Web push notifications are alert-style messages sent to a user through a web browser on both desktop and mobile devices. They slide in at the bottom or top corner of an open browser window, dependent on the desktop operating system, regardless of whether the user is on the website or not. Notifications on a mobile device function similar to that of push notifications from an app.
Businesses, brands, and organizations only need to install push code on their website to utilize this tool. This allows companies to harness the messaging power of notifications without the cost of having an app developed, which can be cost-prohibitive for small businesses and non-profit organizations.
How do they work?
Websites with the push code installed will trigger an opt-in message when a visitor arrives on the site. (Explicit permission is required from a visitor to be served web push notifications.) If the visitor opts-in, they are added to the subscriber list. The notifications can be pushed as long as the visitors are online with an open browser (or the message will be queued until the browser is opened).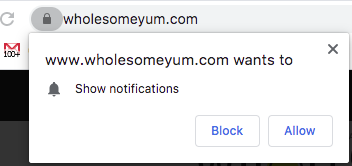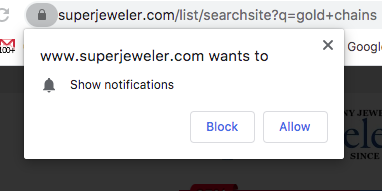 Who could benefit from using web push notifications?
Web push notifications are especially valuable for eCommerce, travel, and media sectors. Whether it's to announce promotional offers, breaking news, scheduling changes, or abandoned cart alerts, notifications—when properly optimized—can be effective in engaging customers. They're an easy form of communication from a website directly to the user.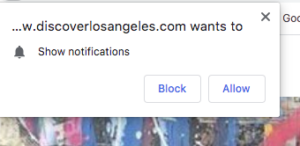 Notification service features include automation, multiple browser support, segmentation, behavior and event triggers, segmenting, A/B testing, and more. Many of the features are similar to email, however, notifications will always be seen when a user opts in, while email messages may never be opened.
Personalized Messaging
Many websites strive to offer a personalized experience to their visitors, presenting them with information and offers based on user behavior. Web push notifications are short and to the point; headline, content, URL, and domain name (appearances will differ based on the browser and operating system). After a user opts in and develops a browsing and behavior history, web push notifications will be sent. A welcoming offer may be one of the first messages sent. Retailers can offer a special on items that were viewed but not purchased.


Relevant information can be shared from pages similar to those that were visited. For example, if a visitor viewed a recipe page, a push notification with a message about another recipe may be sent to them. The use of notifications in this manner can help to build brand loyalty over time.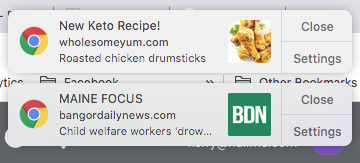 Conclusion
As with any marketing tool, web push notifications are only effective if they are fully optimized. They are the perfect channel for eCommerce sites to help reduce cart abandonment and promote specialized offers. Ready to drive more sales, increase conversions, and build brand loyalty? Put this marketing tool to work for your business.