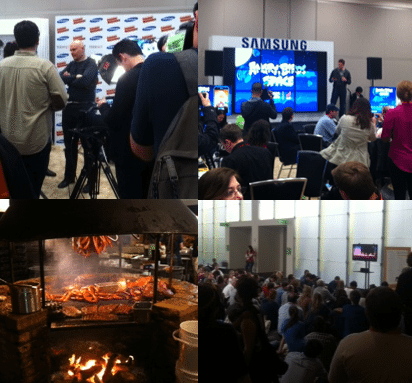 Jenika and I are just returning from SXSW Interactive in Austin, Texas. SXSW has grown so much over the years. The place where new technologies like Twitter and Foursquare got their big break is also known as Nerd Spring Break. Again this year, the conference was big, the official and unofficial parties were at capacity and the networking could not be beat.
We did the sessions, made it to a few big events, had our BBQ, had our Tex-Mex, spent some time in the Blogger Lounge and got to reconnect with some great people.
So here are MY 3 takeaways from SXSW 2012
1. The networking can't be beat – My favorite reason to go to SXSW each year is to connect with people that I maintain a relationship with online. Everyone is there, in one place and you can grab a drink, some food or just sit and catch up in real life, person to person. Nothing beats it. Sure things like Twitter, Facebook, Foursquare etc. are great for keeping tabs on your favorite people but nothing beats sitting down with them on a couch for an hour and chatting. SXSW is so big, that everyone is there. Looking to catch a client, a vender, stalk an internet famous person, see an old friend? You might be able to do all of those and more at SXSW just due to its sheer size.
2. The next big thing can't be determined AT SXSW – In my opinion, you aren't going to come home with the 'next big thing' in your pocket after SXSW. Yes, hundreds and thousands of startups and apps are there selling their wares, yes, attendees probably download an average of 8 new apps just in the week they are there but… the next big thing will have to carry into the real world, not just on bustling 6th Street in Austin. The App I heard a lot about while I was there was Highlight. People were downloading it and talking about it all week. Much like Foursquare a few years ago, it was great in Austin with thousands of early adopters but it wasn't quite as fun when I came back to winter time in Maine. We have to see what will work in our real lives.
3. I need an AMEX card – AMEX was in full force at SXSW. They threw a Jay Z concert, sponsored Wifi on planes in and out of Austin and had Foursquare specials at almost every spot to eat in town. To get into the Jay Z concert and to get the check-in deals on Foursquare, you needed to have an AMEX card. I almost had AMEX envy. I don't know if is it working but I know people took notice and were talking about them a lot. Interesting to see how big brands come to play at SXSW. Some seem to step up and come to play, like AMEX, and others come with the same song and dance each year and it is tiring.
SXSW is a whirlwind. Some people say it has peaked and many think it is now too big but it is still a must attend to me each year. I always learn new things and I always get some quality time with some really great and smart people. The conference itself can be overwhelming but it is what you make of it.