We here at Hall are big fans of Google Analytics. Why have a website and not know what it is doing? We feel the same way about all internet marketing efforts. If you are going to put your time and resources into it, you better have a plan to measure its effectiveness too.
One of the first things you can see with Analytics is how people are getting to your website and that usually falls into 3 major sources: Referring Sites, Search Engines and Direct Traffic. Each piece of that pie is very important.
Why each piece is important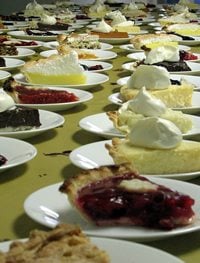 Photo credit:
vitamindave
Referring Sites – These are other sites that point to your website. People click on a link to your website from xyz.com and you get to know about it. If this piece of your pie is big, that is because you must have good sites linking to you and web visitors that click on the link to your site. We know that search engines really like it when you have other sites pointing to yours. It shows you as an authority in your space.
Search Engines – This tells you how many people found your site after entering a search query. You want your website to be found when people are searching for your products or services and more. If this piece of your pie is large, that means people are entering search phrases in a search engine like Google or Bing, those search engines are displaying a page on your site as a possible answer to their question and they are clicking on your link.
Direct Traffic – This tells you how many people came directly to your site. No one pointed them there, they didn't look anything up – they just went straight there. This could be if someone has your website cached in their browser history, they type in your URL directly (think referrals from television or print campaigns). If this piece of your pie is large, somehow people know your website address off the top of their heads or they have it bookmarked.
How to increase one of those sections?
Is one of your pieces of the Traffic Sources pie a little thin? Here are some ideas on how to bulk them up.
Referring traffic is all about reputation:
Try guest blogging to build your reputation on other sites
Invest time in Social Media – let people know who you are off your website
Link to other sites – start building your repuation by linking OUT to other sites
Comment on other blogs – show off your smarts or refer your site or a blog post you wrote
Search Engines is all about being found and content:
Make sure your website is made with clean code search engines can read
Have lots of good, optimized content on your site – search engines love words
Your meta data needs to match the content on your site's pages that your users see
Starting a PPC campaign could improve traffic sources from search engines
Direct Traffic is getting people to know your website address or saving it:
Include your website URL on traditional print materials – radio, TV, print
Encourage bookmarking of your site for further reference
Create a strong brand so people immediately think of you
Have a domain name that is easy to remember
There are obviously lots of contributing factors on getting people to your website. If it was as easy as 4 quick things on a list, I think I would be out of a job but I hope this breakdown has at least given you a few ideas on how to round out your website traffic sources!