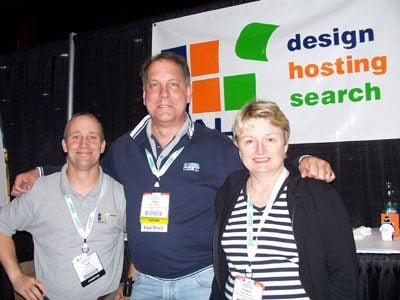 Tom Hall with Mike and Laurie Renner at Sage Insights 2007
Well, the 45 degree weather and drizzle was a striking welcome home as we returned road-weary from the Sage Software Insights Trade show in sunny Orlando, Florida. Weather aside, it was still great to be home and we returned with an overflow of ideas and plans for the future based on an action-packed week at Sage Software's incredibly grand event at the Gaylord Palms Resort.
One of the greatest boons of the Conference was being able to finally meet several of our Sage Software clients, many of whom we've worked with for years but through benefit of the Internet hadn't met with in person. The phrase "I finally have a face to associate with a name" was oft-repeated and we discussed lots of sites and strategies and exciting new technologies that offer great opportunities, for both on and offline marketing efforts.
We also enjoyed the opportunity to talk to dozens of partners throughout the country about what we do and to hand out some 140 shirts ("I went all the way to Orlando and all I got was this lousy t-shirt" was a tremendous hit). One of the things I always enjoy about this kind of event is how being questioned about what you offer so often clarifies in your mind what you really are all about. You quickly find yourself simplifying your pitch to the shortest form possible, while leaving the most positive impression you can. It's a great exercise that sates the "less is more" writer in me.
With hundreds of booths with a variety of products and services for all sorts of business and management applications, the third-party vendor support for Sage Software is extremely impressive and the people who run it all are some of the friendliest you'll come across. We definitely look forward to D.C. next year, and continuing to build our relationship with Sage Software and their many partners.