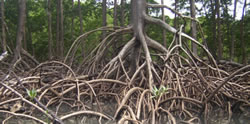 I don't think I can ever stress just how important it is to build your list organically to make sure your email marketing campaign is a success. You are taking time out of your busy life and creating great content for your email newsletters  — the best thing you can do for yourself is to make sure it is getting to people who want the information!
Think long and hard before buying a list – If a third party sells you a list of people's email addresses, do those people actually want to hear for you? Email service providers can be pretty harsh on companies that are tagged as Spam by the recipients. Protect yourself in the long run and make sure you aren't a candidate for someone to mark your email as Spam.
Trade Shows & Events – The bottom line to your Inbound Marketing campaign is meeting, connecting and doing business with people. Marketing itself is about building relationships. As you meet people at events or trade shows, ask them if they want to receive your newsletter. A sign up sheet on your booth is great but a conversation is better. When they see you in their inbox next week, they will remember who you are, the conversation you had and are excited to read more about your expertise, industry events and products.
Existing Customers – Everyone has those customers that they talk to every week or every other week and are always curious about what you have going on. Ask them if they want to be signed up!  Sign up for them or show them where on your site they can go to sign up.
Sales leads – Got a sales lead that isn't ready to purchase yet? Ask them if they want to be added to your list and then they can keep up with what is new and exciting at your company. Then when they are ready to purchase you will be in their Inbox AND top of mind.
Email Footer – Quick easy one. Add a subscription link to your newsletter in the footer of your outgoing email. People like hearing from you day to day but this way will get an easy way to access what is going on with your company.
YOU are putting out important content. You are witty, funny, informational, clever, have great images and spent your quality time putting this masterpiece together. Why throw all that away on someone who doesn't want your email? They click delete before opening or worse click 'this is spam'. OUCH!
Numbers are cool. Having 2,000 subscribers is cool but… but wouldn't it be better to have 500 active customers who look forward to your emails, not dread them? I bet those 500 active customers will also come to you first when they have a purchasing need. Email marketing is an easy, inexpensive, effective tool in your toolbox. Make sure you are using it right AND using it on the right people! It may take a little longer but you will see a big difference in the effectiveness of your email campaign.
---
Want to know more? – READ: Email Marketing is so NOT 'out'