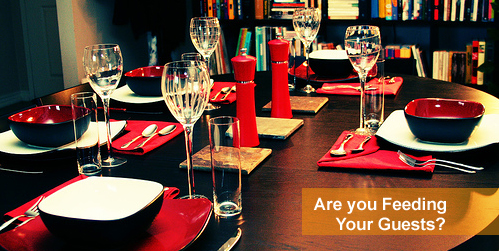 Have you ever planned a killer dinner party? Spent several hours crafting eloquent invitations, bought the perfect dress, decorated to the nines, set fancy place cards at each seat….but forgot the food?
Say What?
Having a dinner party without food is a lot like driving traffic to your website and not giving them anything to 'chew on'. Something like a whitepaper, a demo or funny video can quickly turn a hungry crowd into raving fans.

Is your website feeding its guests?
Take a quick scan of your website. Which offers are available on your homepage? Are they visible above the fold? How popular are these offers? By taking a quick inventory of your user conversion strategy and a digging into your analytics you can quickly figure out which conversion elements have the highest yield and which ones do not. Armed with that information, refine the user conversion strategy, and deliver a plateful of information for your guests to take away with them…in a doggie bag.