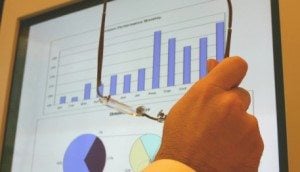 By now we know what your conversion rate is right? The number of people that visit your site is not nearly as important as the people that do something on your website. We want people to make an online purchase, download more information like a whitepaper or a catalog, subscribe to your newsletter or blog, contact you or something of that nature. Getting people to do that thing is website conversion.
Conversion Rate Optimization is taking a analytical look at your website, find out what people are doing on your website and making adjustments so that they are performing the desired action. With a little research you can learn why visitors come to your site and figure out why they aren't doing what you want and fix it.
How do you optimize your site for conversion?
You need to take a good hard look at your website. Identify and reduce barriers or distractions that are taking away from your desired goal. There is a good chance another design element could be standing in your way. There are things you can do to make sure your site is ready for customers and to encourage them to take the desired action.
Here is what you need to do as a site owner to optimize your conversion rate:
Benchmark – You need to know where you are starting so you have data to look back on.
Create goals in Google Analytics – Set up tracking in Google Analytics to measure when the actions you want to be taken are taken.
Test usability – How are people currently using your site?
Identify what is not working – After some usability testing you should see some areas that need improvement.
Start fixing what is not working – Identify the most important things you need to fix and strategize on how you can fix them.
Measure and make small changes – For all changes you make, measure the implications of those changes.
If you want to know a lot more, Monica just did a webinar this week on CRO. You can watch the full presentation below or on the webinar archive page.

CRO – Time To Make Some Data-Driven Decisions from Hall Internet Marketing on Vimeo.