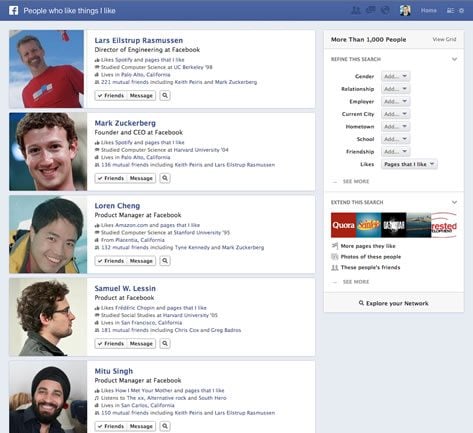 This week Facebook announced their new search tool, Graph Search, with a lot of pomp and circumstance. The social media giant is launching a new way to search for things that you want to know more about and tying it to our connections.
Using the Facebook search bar, you can look for all kinds of information and it will use public Facebook user information to deliver your results. The new search functionality pulls something that Google is unable to – account holder information. Since people share so much on Facebook, there is loads of information to help searchers find what they are looking for. This could mean trouble for Google, LinkedIn and review sites like Yelp.
Instead of writing about a topic that has been so wildly covered on the news and in blogs, I made a list of good articles we found explaining Facebook's Graph Search and what it means for users and businesses:
How this all plays out should be interesting! If you want to know even more about Graph Search, you can go right to the horse's mouth and check out Facebook's Guide to Graph Search.