For the last 4 years, I have worked as an organizer for WordCamp Portland, ME, a local gathering for WordPress users of all skill levels looking to network and learn more about the popular web publishing platform. Each year, we host local and national speakers for two days of discussion around important topics for developers, writers, designers and professionals, give away free t-shirts, and host a fun after party. All-in-all, it's a pretty great time.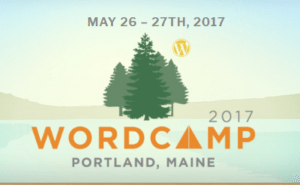 So, what is a WordCamp?
WordCamps are informal, community-organized events that are put together by local members of the WordPress community. Everyone from casual users to core developers participate, share ideas, and get to know each other. As a rule, WordCamps try to be as inclusive as possible and work hard to keep ticket prices low — ticket prices are never more than $20 a day.
Is this only for developers?
Not at all! In fact, the majority of topics are code-free. Whether you are just starting out or have been using WordPress since 1.0, there is certain to be a topic to match your skill set or interests.
Can I get help with my website?
Absolutely! Most WordCamps host a "Happiness Bar" where attendees can ask talented volunteers questions about how to improve their website. While volunteers won't have time to help re-build your website, they should be able to help get you moving in the right direction.
How do I find a WordCamp near me?
There are hundreds of WordCamps all over the world so finding one near you on their calendar of events should be easy. If you are in the US Northeast region this spring, I encourage you to attend WordCamp Portland, ME on May 26 & 27. You can learn more about the event here.