Campaign Tagging is a great way to track results of your your Email Marketing efforts within Google Analytics. By tagging your links, you gain a broader, more full picture of what people do on your site after they "clickthrough" a link in an email.
What are tagged links?
Tagged links are the links within your newsletter that have been assigned a unique "tag" that will register within your Google Analytics account. There are three required (*) unique parameters that you modify for each link within the email campaign, and two optional parameters that you can use to further filter the reports.
They are:
Campaign Name*
Campaign Source*
Campaign Medium*
Campaign Term
Campaign Content
* Required
The Campaign Name is the name of the email marketing campaign. This should be unique for every email that you deliver so that you can later review and compare the analytics data.
The Campaign Source identifies who distributed your email newsletter. You can use the name of your email newsletter or the name of the provider, depending on how complex your email marketing efforts are.
The Campaign Medium is simply 'email.'
The Campaign Term can be used if you are targeting certain terms – if your Campaign Medium is PPC, for example.
The Campaign Content can be used to differentiate ads or links that point to the same URL.
So now that you have the basic understanding of what Campaign Tags are, here's how to use them. Google has a URL Builder that generates the Campaign Tags for you. You then use these tags in place of the original URL's within your email.
Example:
Say I wanted to link back to our home page from within a newsletter.  I would use the URL https://www.hallme.com/. In order to integrate this URL within analytics, we would use the URL Builder to generate the new link.
We'll use "Campaign Tagging" as the Campaign Name, "Hall" as the Campaign Source and "Email" as the Campaign Medium.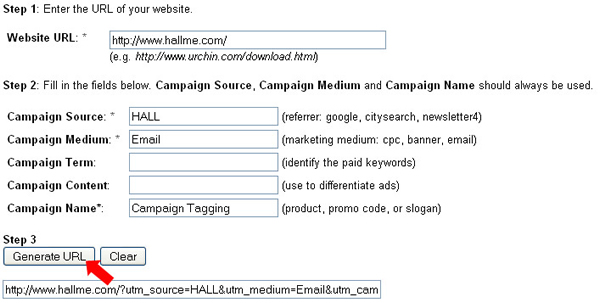 This is how the new link appears:
https://www.hallme.com/?utm_source=HALL&utm_medium=Email&utm_campaign=Campaign%2BTagging
Once this link has been added to the newsletter and delivered to an inbox, if it is clicked, it triggers a page view in Google Analytics and shows the referring source as HALL (the name of the campaign we selected).
This is important for a number of reasons. Without tagging your links, you may see a spike in visitors coming to your site after delivering a newsletter. But how do you distinguish which of those visitors are a result of your newsletter? You don't.
Also, analytics treats links from within a newsletter as Direct Traffic. Direct Traffic is the number of times visitors came to your site using a link they have either saved in their favorites, bookmarks or from within a newsletter. Campaign Tagging is essentially segmenting this data so that you can better understand the performance of your newsletters.
In order to access this data from with Google Analytics, log into your account.
View Reports



View Traffic Sources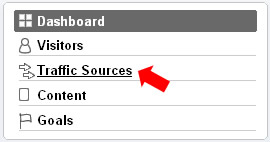 View Campaigns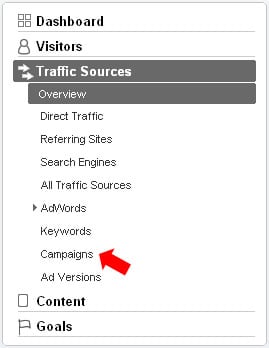 View Dimensions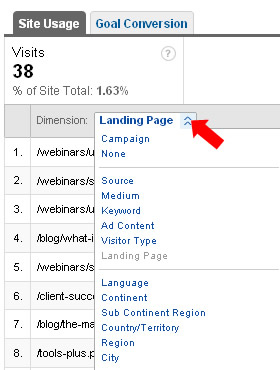 So now that you have the basics for integrating your email marketing campaigns with your analytics accounts, you'll better understand the behaviors of your target audience and see actual data generated from your newsletters reflected within your website analytics.