If you've seen Facebook evolve over the years, you've watched as different ad formats have been added to the mix. More recently, we've seen options become available within the news feed itself and in the mobile app. The (newish) Promoted Post option drew quite a bit of controversy when it was introduced around the same time that Facebook updated its Edgerank algorithm.
Despite what the critics say, the added variety of Facebook ad options available for businesses and organizations makes paid promotion on the social network more accessible and effective for different advertising goals and budgets.
Examples of all of the different formats are probably visible in your own news feed right now. But which is which, and what makes them different? We'll try our best to explain the ad types in plain English. We'll also note which options are mobile.
The "Original" Facebook Ads

Also known as marketplace ads, these appear in the right hand column of the page on the desktop site and are the ads most of us are used to seeing. This format is similar to a typical online display ad and consists of a headline, some short copy and an image. Campaigns can be used to get users to convert on external websites. They can also be used to direct users to Facebook pages or apps as a way to increase likes or engagement.
Click through rate on Facebook ads do tend to be low, but a well written ad with a strong image and landing page can be very effective. You can create an ad campaign by clicking 'Create an Ad' under 'Build Your Audience' on your Facebook page timeline.
Sponsored Stories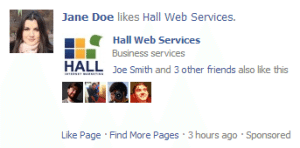 Sponsored Stories appear in the news feed on both desktop and mobile. These ads are based on users' interactions with whatever is being promoted (like a brand's business page or a special offer).
Friends of people who already like a page see these ads, making them a cost effective option for increasing exposure and new fans. These endorsement-like ads tend to see a good click through rate. They can be set up just like a marketplace ad, as noted above.
Promoted Posts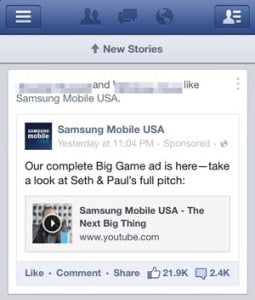 Promoted Posts are just that: posts that are promoted in the news feed (desktop and mobile) according to the number of users an advertiser wants to reach (and the amount they are willing to pay). They are shown to users that already like the page as well as their friends, making them an ideal choice for increasing engagement with an existing audience while increasing visibility among potential fans.
These are easy to set up and work well for promoting events, special offers and engaging images. Any post can be promoted using the 'Promote' link in the bottom right hand corner of the post.
Promoted page posts can also be purchased like standard ads, to appear in the right hand column.
Page Like Ads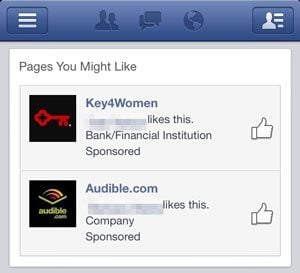 This is one of the newest Facebook ad options, introduced in December. Following a set up similar to promoted posts, page owners can choose to promote their page according to the number of likes per a day that they are willing to pay for.
Set up is simple and geared towards small business owners. These ads are also visible on both desktop and mobile. Page like ads can be created right from your page timeline, in the bottom left corner of the admin panel.
Page Post Ads
Page Post Ads are basically the standard "marketplace" version of promoted posts. Unlike promoted posts, page post ads can be used to reach all users, not just those who already like a page and their friends. They are visible on both desktop and mobile.
As I mentioned, different options work better for different types of businesses and advertising goals.
Have you tried any of these options yourself?
Which have you found to be most effective for you?
Want to learn more about social media advertising? Check out our two part blog on Twitter Advertising for Small Business.