LinkedIn is an online platform targeting over 414 million professionals across the world. As the world's largest professional network on the Internet, LinkedIn knows a thing or two about advertising online. Let us show you how.
Ad Formats
The two simplest and least expensive forms of advertising on LinkedIn are Sponsored Updates and Text and Image Ads. These can be set up as soon as you have created and activated your LinkedIn account by logging into Campaign Manager.
Campaign Manager is the area where you can access and manage your advertising accounts and can be found by hovering over the Business Services tab in the top navigation and is available for anyone that has a LinkedIn account. Whether you're creating an ad from an existing account or adding a new account, LinkedIn makes it easy to get set up and manage them. For more information on how to set up a Sponsored Update or Text and Image Ad, visit LinkedIn's Help Center.
Sponsored Updates
The first type of ad I'll cover is the Sponsored Update. A Sponsored Update is a LinkedIn advertisement that appears within the Feed on the homepage of members who meet your target criteria, as set up and determined in Campaign Manager.
This type of advertisement requires a LinkedIn Company Page in order to begin and will show up similar to a regular LinkedIn post but will also include the text 'Sponsored' under your company's name with a Follow button to the right. These Sponsored Updates provides many benefits including the ability to be less intrusive than banner ads, their ease of use and precise targeting.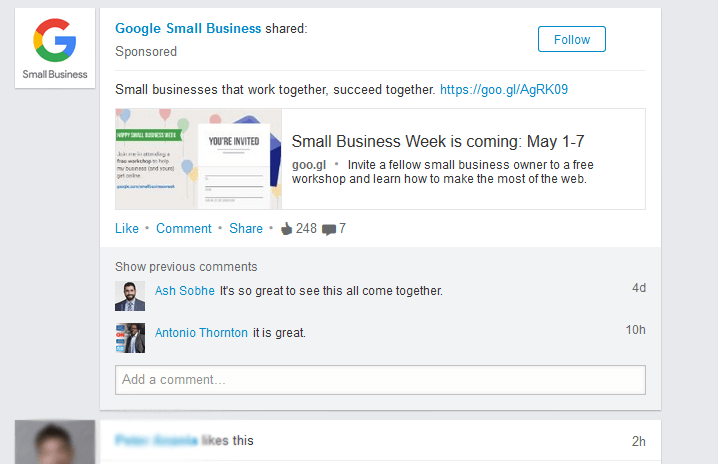 Text or Image Ads
The second type of LinkedIn advertisement is a Text or Image Ad. A Text or Image Ad is made up of a headline (25 characters), description (75 characters), and image (50×50 pixels). Unlike Sponsored Updates, this type of advertisement shows up in several places including the Homepage Ads You May Be Interested In Section on the left-hand side of LinkedIn Profile page, Inbox and more.

Targeting
Now that we have gone over some of the basics as far as the types of ads that you can run on LinkedIn, let's go over what LinkedIn has to offer as far as targeting options.
When it comes to targeting, LinkedIn has several different options to choose from including location, gender, age, company, job title and even skills. This allows a user to create a highly targeted campaign that pinpoints the exact professional audience they would like to reach. However, keep in mind that the more selections you make in terms of targeting fields, the narrower your audience becomes.
This type of targeting also allows you to exclude certain fields, as well, resulting in a very efficient budget spend.
Budget
Speaking of budget spend, let's dive into the concept of ad spend budget. Once you have setup your campaign and target audience, it is time to determine your Daily Budget or the most you are willing to spend for an ad in a given day.
LinkedIn follows two pricing models: cost-per-click (CPC) or cost-per-1,000 impressions (CPM). Based on these two models, you'll want to decide if the primary goal of your campaign is to generate clicks (CPC) or to raise awareness (CPM). Depending on which of these you choose, you will then set your maximum daily budget, or the amount at which LinkedIn will stop displaying your ad. This can be monitored and adjusted based on your overall budget and competition.
Measuring Success
Once you have your ads up and running, it's time to begin measuring success by not only looking at different metrics like click-through-rate, average cost-per-click and impressions, but also keeping in mind your overall business and marketing goals. This is where you can also make adjustments and swap out ad copy that may not be working.
Although this is only a brief outline about Linkedin Advertising, there are many other areas to consider when running your LinkedIn campaign. For more information and resources, please check out the additional resources below.
Additional Resources