This is an entry in our daily Internet Marketing Advent Calendar series. Each day your favorite marketing elves will focus on a new topic to get your internet marketing in order before the start of the new year.
Time is so important during the holiday season! We need time to buy and wrap our gifts, time to celebrate the holidays with family, time to reflect on the past year and think of the new year. Sometimes I get so busy planning and thinking ahead of everything that needs to get done that I don't focus enough to enjoy the present.
Well Google just stopped me dead in my tracks and made me pay attention to now, now, NOW! Recently Google introduced Real-Time Analytics. Though it's still in beta phase most of us can see and check it out now (hint: you also have to be using the new version of Google Analytics). You can access Real-Time by clicking on the home tab in your analytics, then you'll find "Real-Time" on the left hand navigation.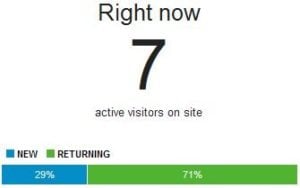 From here you get an overview of how many active visitors are on your site right now! You can see their top referrer sources, top active pages, top keywords, and their locations! Holy cow this stuff is awesome!
As neat as this tool is and as much as I can geek out over it, I also think about how it can be applied. Here are some ways I thought of:
After you post a blog or add a link on a social networking site, you can more instantly see the effects of that content to your website traffic. We used to be able to see that a day later and we've gotten used to it.
Another application might be as a user experience tool you'll be able to see how visitors are being referred to and navigating throughout your site.
Not that you'd ever want this to happen, but in the case of a PR crisis you could watch the real-time analytics to learn information about the people who are engaging with to better target the communication messaging.
Although I am not completely "sold" on the usefulness of Google Real-Time Analytics (yet) I strongly believe that Google will continuously make updates to enhance the tool over time. Right now it's super cool and also reminds me that the present should be embraced!
Read more from our Internet Marketing Advent Calendar series!