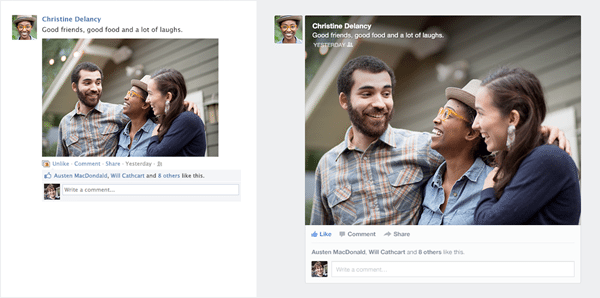 Unless you've been under a rock, you know that Facebook announced big changes for its news feed last week. As most speculated, the design changes highlight the most popular and engaging content on Facebook: images. All of the visual content you see in your news feed will be bigger and better. For marketers, this means more real estate for in-stream ad content.
Another major change will be topic-based feeds – including a feed in which you can view all content from friends only. This will be a welcome change for those of us who have been frustrated by the current news feed algorithm. Yes, if you feel like you've been missing important updates from people you actually want to hear from, you're not alone. On other hand, some are concerned about what the new feed choice options will mean for organic brand reach in the news feed. Before we panic, we'll just have to wait and see. Changes started rolling out to some users immediately, but it will take awhile for the changes to go in effect for everyone.
One update that I am excited about – from a marketing and branding point of view – is the improved integration of Timeline's visuals. New connections made and new pages liked by friends will now highlight more of Timeline's visual real estate (the cover photo) that is most often seen by first time page visitors only, increasing opportunities for engagement with potential fans and better brand awareness. Your business page cover photo should already tell your story, but if it doesn't, this is the time to freshen things up.

As you can imagine, there's plenty of buzz happening as we speak, so I won't try to cover what's already been covered. Here are a few good articles on the topic so far:
How to Get the New Facebook News Feed ASAP – yes, I did just read your mind
Facebook Launches Multiple Topic-Based Feeds Including Photos, Bigger Images, And A Consistent Design Across Devices
Facebook Gets Simpler, More Complicated
A New Look for News Feed – Facebook Studio Blog, talks about what marketers can do to take advantage of the new look
What Facebook's New News Feed Means for Marketers
Advertisers and marketers should love Facebook's new feed — but they better refocus on being awesome
Oh and in case you missed it, Google+ also announced a redesign last week. Users on that network will notice that cover images have gotten much larger. The redesign also includes updates to profiles, including some local search changes. Katie will have more on that later this week. Some would argue that Facebook's new news feed looks pretty similar to Google+. What do you think?
Photos courtesy of Facebook