eCommerce sales in 2020 are experiencing an unprecedented rise in growth due to the COVID-19 pandemic. With consumer shopping shifting from in-store to online, retailers face an increasingly crowded digital marketplace.
In an effort to help retailers gain visibility, Microsoft has now opened up the Bing Shopping tab to free product listings on the heels of Google's move earlier this year. One notable difference is that the free listings only appear near the footer of the results page as opposed to the Google free product listings consuming more than half of the page results. This may change in the future, but hey, free is free — why wouldn't a retailer take advantage of this?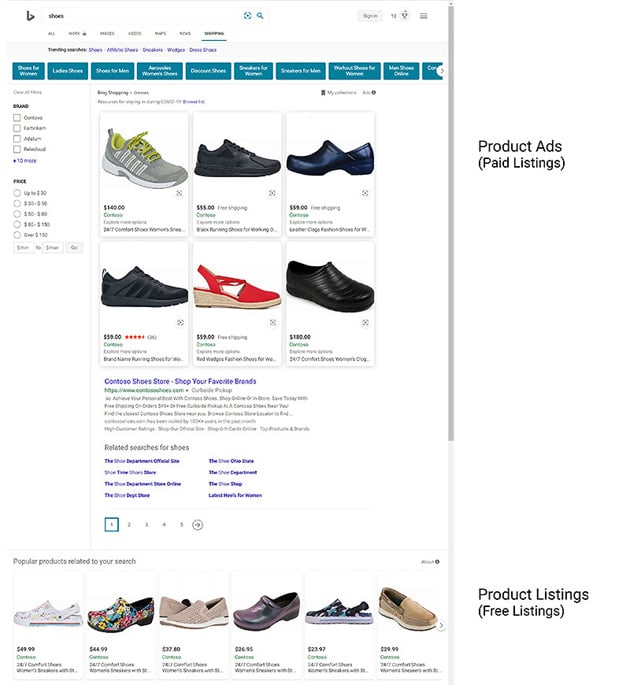 How do the free Bing Shopping listing ads work?
If you are already a Microsoft Shopping Campaign customer, there are no actions that you need to take. Your approved product offers will automatically be opted into the free product listings.
If you are not currently a Microsoft Shopping Campaign customer, you will need to create a Microsoft Merchant Center store, and submit a detailed product data feed to be eligible for the free listings. Once the product feed is approved, be sure that your products are opted into the free listings — there will be no need to create any Shopping campaigns.
Do you need to be on Google and Bing?
eCommerce merchants will continue to see increased competition for eyeballs and sales, and hey, did we mention that the product listings are free? If you already have a Google Shopping data feed, Microsoft makes it easy to import that feed for use in their Merchant Center. Many of the attributes are shared, and this import option eliminates a majority of the work you've already done. The details of supported attributes are outlined in the Microsoft Ads support section, and the instructions will walk you through getting your feed set up correctly.
Yes, Google gets the lion's share of search traffic, along with Amazon, but this doesn't mean that you should ignore Bing. The upside to getting your free Bing listings is that your products will face less competition for being displayed. Both Google and Bing are offering the free listings in an effort to compete with shopping behemoth Amazon. The rise in online shopping has also led to Walmart's latest competitive effort with the launch of Walmart+, their alternative to Amazon Prime.
Optimize it!
Regardless of which platform you have your products listed on (including your branded eCommerce store), the important first step is to make sure the listings are optimized for organic search. Product titles and descriptions should include keywords and phrases that consumers use to find your products. For example, if you're selling a red running shoe for women, a highly-optimized title would include "Women's Running Shoe – Red." Quirky titles that reflect your brand culture are not what a consumer will be searching for if they haven't heard of your product before. Building a brand takes time, and acquiring new customers means continual organic search engine optimization.
Conclusion
At this writing, in-store shopping has returned for many brick and mortar businesses, but eCommerce is here to stay, and online shopping behaviors are shifting. The amount of time that people spend online has increased and so have the opportunities to get your products in front of them. If you want to increase eCommerce sales and need help getting your merchant centers set up on a search engine or a social marketplace, give Hall a call — we're here to help!