Ever wondered how to get an ad to show up on the new Google Maps? It is possible, and fairly easy if you already advertise with Google AdWords and already have your Google Plus/Places for Business listing set up.
(This blog post is written for those that already have these two Google accounts up and running. If you are new to all of this, your first step will be to set up a Google Plus/Places for Business account and then start a Google AdWords account.)
In the past, the only way to have an advertisement show on Google Maps was to use AdWords Express. AdWords Express is the small business/simplified version of the full Google AdWords. For advertisers that were already using the full AdWords, having to use a separate platform to serve ads was not ideal. Not to mention, using AdWords Express gave you little control over your ad targeting and serving, and caused you to compete with your own full AdWords account. Now, thanks to changes that Google made with Advanced Campaigns, upgraded ad extensions and the new Google Maps, advertisers can finally serve their ads on Maps using their real, full, Google AdWords account. Note: AdWords Express can also still be used to advertise on Google Maps. However, this blog is focused on instructions for full AdWords.
Once you are logged in to your AdWords account, follow the steps below to get your ads to show on Google Maps:
Step 1: You must ensure that any campaigns that you want to show on Maps, are set to show on Google Search Network and search partners. You can find this option in the Settings tab for each campaign, under "Networks." Ensure that "Include search partners" is checked.

Step 2: Navigate to your Ad extensions tab and then select "Location Extensions" from the drop down in the top left. Location Extensions are how your ads are shown on Google Maps. You will now add your location extension by linking your AdWords account to your Google Places for Business account. Note: If your account already has an older Legacy extension, you will need to remove this extension and then make sure that you have selected "Upgraded" from the drop down at the top of the extensions tab.
Step 3: Ensure that "Upgraded" is selected in the top dropdown of the Location Extensions tab. Click the red "+ Extension" button to create your location extension. This will bring up a box that allows you to link your Places and AdWords accounts. If your AdWords login is the same Google login that controls your Places account, then select Done. If you use a different account to manage your Places listing, then select "Use a different account" and you will be prompted to login and select a different account of your choosing. Note: If you manage multiple Places pages under the single login, you can select "Set up a filter…" to enable a single Places account by name or category.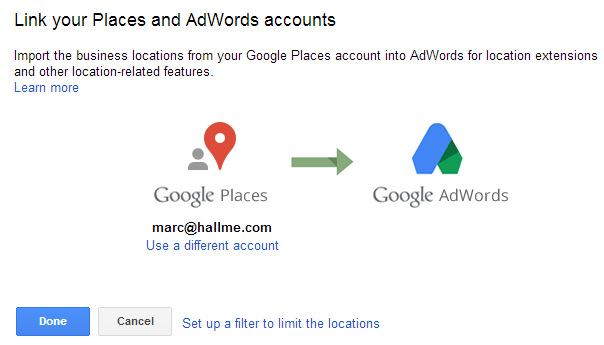 Step 4: Now that your Google Places for Business page is linked to your AdWords account, you will need to wait about 24 hours before the link is complete. You will immediately see a disclaimer in your Location Extension that reads, "0 locations synced; syncing may take up to 24 hours."
Step 5: After 24 hours, come back to your Location Extensions and you should see your Places account listed and a message that reads, "1 location synced." This means that the syncing was successful. As your AdWords campaigns and ads run per usual for a few days, you can return to this tab to see data accrue in the columns towards the top. Along with the numerical data for clicks, impressions, etc, you can also read the address that is being used under the "Location" column. Ensure that the address is correct, meaning that your Places account linking and Location Extension creation was successful!
Your ads should now successfully be running on Google Maps. The text ads that you have already created in your AdGroups, will be served when users browse Maps for the AdGroup's keywords, just like in Google Search. Bidding and cost-per-click also works just as with Search.
Lastly, it is important for experienced AdWords users to remember a few things in this process. If you were using Location Extensions in the past that were manually entered (not using a Google Places account linkage), then your ads will not show on Maps. These legacy extensions will still work in Google Search (for the time being), but they will not enable Maps ads to serve. You must delete these old extensions and create your Upgraded Location Extension. Likewise, if in the past you have set up AdWords Express ads, you will need to turn off your Express campaigns if you want your new Location Extensions to work in Maps.