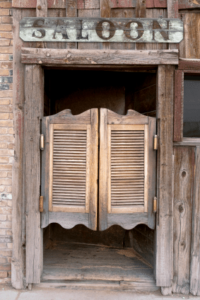 Much like a saloon in an abandoned western town, without visitors your site will not make you a penny. Among the best methods to drive potential customers is Pay-per-click advertsing (PPC) through Google's Adwords or Microsoft Advertising's adcenter- which delivers ads to both Bing and Yahoo. While Google receives a full 2/3 share of the U.S. search market, adding Adcenter to your mix raises your reach to 94.6%.
Before you begin any advertising campaigns, you must set clear goals for what you are trying to achieve. For example: Are you trying to Increase awareness? Increase leads? Perhaps Close more sales? For each of these, the campaign configuration would be different.
Increase awareness
To increase awareness, you would create a long-tail keyword list of relevant terms. Your keyword list should be very broad, and consider a variety of scenarios where your site would be a relevant result.
To build this campaign, create 4 lists of search phrases:
For your brand use phrases that include your name or unique products. You want to be sure that you rank well for people who are actively trying to find your site.
For your industry, categories, or market. Use association sites, trade groups, email newsletters, industry journals and consumer magazines for your market, as great sources for seed phrases.
For your products or services. All names aside, what is it that you sell? List your wares as you would search for them, as wells as how your customers would search for them. Regardless of your product, it's possible your customers may describe it differently than you do: consider 'watches' vs. 'timepieces' or 'chronographs', 'pens' vs. 'writing implements'.
And for your value proposition. What pain can you alleviate, what problems do your products solve? List the phrases that bring customers calling, and hopefully appear on the search engine results page (SERP) when they need you.
Each of these lists contributes ideas for potential keyword categories; develop each group of search phrases by adding variations of each and collect them into 4 ad groups within your campaign. Then set low maximum bids across the entire group- ensuring the most new visits for your advertising spend.
More leads
Bringing leads in the door means qualifying the above list, and not allocating spend toward reach. These terms should be product, pain, or need specific- and copy would appropriately respond to the search. Key word bids may be higher, but the budget must be carefully considered to provide volume and maintain your margin.
Set your maximum bid based on the value of each new customer to your business, the ratios of site visitors to leads and close rate. Let's say 1 in 20 visitors becomes a lead, you close 1 in 5 leads, and a sale yields $200 in profit.
Maximum CPC=(lead conversion rate)*(close rate)*NewCustomerValue
Maximum CPC=(0.05)*(0.2)*$200=$2

Since only 1% of your PPC visitors will become new customers, you can not afford to buy visits for more than 1% of your margin (or $2) per visitor. If the resulting number is too low for your critical search phrases, revisit your conversion strategy.
Close sales
To connect people in a buying phase, your campaign's budget would be focused on searches of an evolved and comparative nature. No longer appropriate to target searches that are exploratory, you should narrow your efforts to bid on searches that are most likely to result in a purchase. Consider the searches of two potential visitors:
| | | |
| --- | --- | --- |
| Search phrase (exact match) | Cost-per-click | US Google Searches/month |
| auto parts online | $3.13 | 14,800 |
| scion xb trd lowering springs | $0.05 | 28 |
These phrases exemplify the critical value of long-tail campaigns: the more specific the phrases that you bid on, the lower their averaged cost-per-click. The latter visitor is farther along in the buying cycle, knows what they want, and is more likely to buy if you have what they are looking for. While that narrow phrase offers only 28 potential visits per month, it carries only 1.5% of the cost.
To close more sales, drop higher-cost broad phrases and develop a litany of lower-cost, lower-volume searches that more narrowly describe the specific problem a site visitor could be facing or products that you offer.
Wrangling Customers to your Door
If your site is ready to turn visitors into leads, and leads into customers, then you are ready to dive into the pay-per-click marketplace. I encourage you to start with Google Adwords first, since it does have two-thirds of the market. As you construct your PPC campaign, round up the keyword lists you created above for each ad group, and develop ad copy that is Relevant, Compelling and Valuable for each search target.
You should set measurable goals for your new campaign, but if you're new to this- how do you set your targets? To see what possible keywords in your market are going to cost, check out the Google Adwords: Keyword Tool, and use the Traffic Estimator to see how many visits you could anticipate.
As you kick-off your online advertising effort, make sure you can monitor your site in Google Analytics, and setup Goal Conversions to the see the effects of your PPC campaign. Calculating your PPC costs versus your "Goal Completions" will tell you the ongoing profitability of your efforts. Once you've found success, you can recreate your winning PPC campaign in Microsoft adcenter to expand your reach by almost 42%!