In April 2020, Google announced it's now free to sell on Google Shopping. Previously, Google Shopping listings only consisted of paid advertisements. Now, search results on the Google Shopping tab will consist primarily of free listings, helping merchants better connect with consumers, regardless of whether they advertise on Google.
Before you can take advantage of the Surfaces Across Google program, you must meet the required prerequisites:
First, you'll need to sign up for Google Merchant Center which requires a Google account and business information such as country, display name, and timezone. In addition, you will need an eCommerce website so potential customers can be redirected to the product page on your website after clicking on the product in Google Shopping. Customers do not perform the transaction on Google Shopping but rather are redirected to that particular product page on your website where they can proceed to make a purchase. If you would like to give customers the ability to purchase an item directly through Google, there is a Buy on Google option you can use through the Shopping Actions program. Shopping Actions is a separate program you must sign up for. This blog originally stated that Google takes commissions for products sold through this program but Google has recently announced that Buy on Google will soon be free for sellers.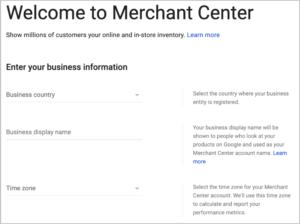 Second, you will need to opt into the Surfaces Across Google program which can be found under the Growth tab once you are logged into Merchant Center.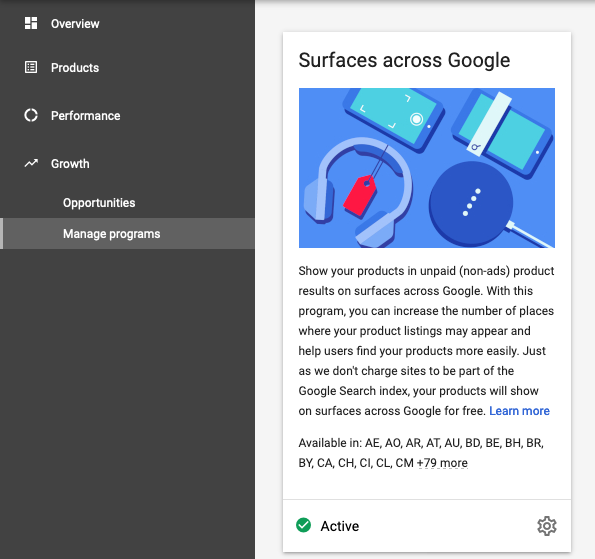 Third, you will need to add your product data. We recommend uploading your products in a Merchant Center product feed. This is a free tool that allows you to upload your product data directly to Google to ensure it's comprehensive and up to date. In addition, using a product feed allows you to upload multiple products at once instead of one at a time.
In order for your products to appear on Google Shopping, they must meet Google's data and eligibility requirements. Each product undergoes a vetting process and needs to be approved by Google first before your products can be displayed on Google Shopping results. Google requires each different product to have a unique ID, title, link to the product on your website, image link, and price. Some additional attributes you can apply to enhance your products listings include: description, brand, condition, color, and size. If you'd like to learn more about enhancing your listings, check out How to Optimize for Google Shopping's Free Product Listings.

After uploading your product feed to Merchant Center, it will take a few days for each item to be approved. If any of your products were disapproved, you will have the opportunity to make the necessary changes based on Google's feedback and then reprocess the feed. Once Google has approved your products, they will start appearing under Shopping search results.