Is There a Mobile Experience Update Coming to the Google Algorithm?
The question has to be asked: Is there a big update coming this fall to the Google algorithm focused around the mobile experience? Google usually puts out a bunch of updates to their algorithm every fall. In recent years we have seen Penguin 3.1, Hummingbird, numerous Penguin and Panda updates, as well as the Content Freshness update in 2011. We've been seeing signs that it's only a matter of time before websites start feeling the pain again.
We have been given small clues over the past month or so about potential changes to rankings based on mobile experience. Google has already started warning users about potentially bad user experiences for mobile users directly within its search results. You may have seen this on your mobile phone if you are trying to visit a site heavy with flash or the more common occurrence of being redirected to a mobile site home page no matter what the desktop equivalent link was.
Flash Heavy Websites
Most newer smartphones can no longer run Flash applications. As a result, websites that heavily rely on Flash are not having their proper descriptions tags displayed in SERPs. Instead users are seeing a warning telling them about possible bad user experience on the website in question and a warning if they want to proceed. This is obviously a nightmare for website owners especially with the increase in mobile browsing over the past few years.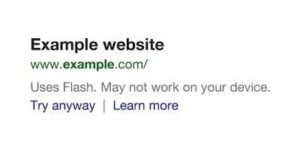 Improper Mobile Redirects
The mobile redirect issue is much more common and a problem that most webmasters don't even realize is happening. Imagine you are doing a Google search on your mobile phone and find a link to a site that you think is appropriate. Unfortunately when you click the link, the site redirects you to the mobile site home page with no clear way to get to the article, recipe, blog post, product, etc. you were trying to access. Even if this has never happened to you, I am sure you can imagine how frustrating it might be for a user.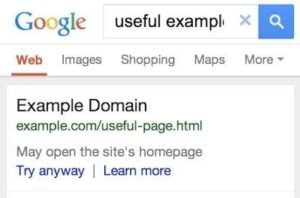 Google is now warning users about this bad user experience ahead of time, similarly to the warning on flash based sites. Websites that do not have proper redirects setup, are going to start having their SERPs show warnings to users instead of the valuable information you use to try and entice them to click your link.
Google Webmaster Tools Warnings
In addition to Google warning users that are searching for things, they have also started to send out warnings to Webmasters through Google Webmaster Tools warning them of bad mobile experiences. In my opinion, this is Google being nice, and giving us a couple of months to get our act together before they implement the penalties. Webmasters should take note of this warning and make sure they take care of the issues ahead of time.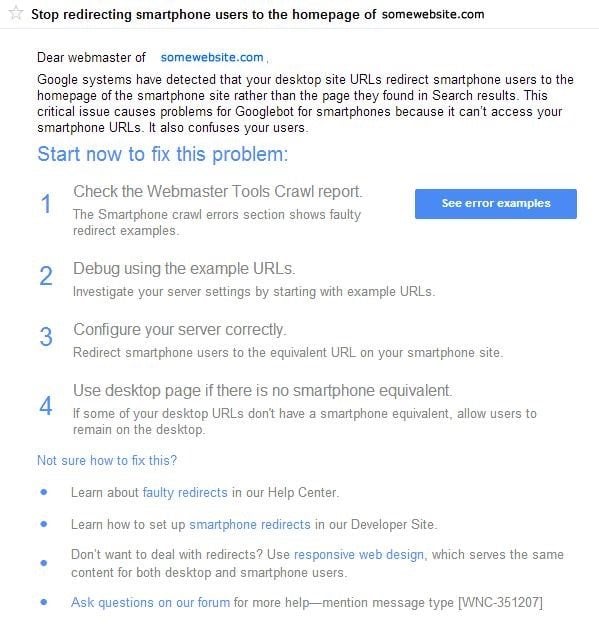 The PageRank Effect
These penalties are most likely going to happen on the page rank level, and would indirectly affect your site's domain rank over time as a result. In this case you may not see drops in rankings across the board right away, but instead see only certain keyword / landing page combinations fall. The individual pages that are not redirecting to mobile equivalent pages are the ones that will most likely be affected in Search Result Pages.
How Do We Avoid Being Penalized?
Here are the three main steps you will want to take in order to make sure you are not penalized when Google makes this eventual update to the algorithm:
1) Proper Mobile Redirects
The first step is to set up proper redirects on your desktop site linking mobile users to the equivalent version on your mobile environment. Simply sending all users to the home page is a big no-no and should be avoided at all costs.
Google has stated that if there is not an equivalent page on your mobile site, then you should just send the user to the desktop site instead. Imagine you have this really cool calculator that helps users figure out the cost of a major life decision, and you didn't have the money in your budget to create the calculator for the mobile version of your site.
A user finds your link in SERPs, clicks on it, and is brought to your mobile site home page. In this scenario, it is much better for user experience to send them to the clunky, most likely hard to use, calculator on the desktop site rather than send them to the mobile site home page. The calculator they were looking for will not be present, and they will most likely result in a bounce. Every time someone bounces from a page on your site you potentially take a hit on both PageRank and Domain Authority.
2) Mobile Site Canonicalization
Every page on your mobile site likely has an equivalent version on your desktop site. Since the desktop version will generally have the best, most relevant content related to the topic, you'll want to designate the desktop version as the authoritative page for that content. Google frowns upon duplicate content and considers content being used on both a mobile and desktop site as duplicate content. https://support.google.com/webmasters/answer/66359?hl=en
We can avoid this issue, just as we would if we had two pages with similar content on a desktop site, with canonical tags. For each page on the mobile site, we want to add a canonical tag in the head of the page that references the full page on the desktop site. This lets Google know that the page is actually just a copy of the desktop version and that Google should rank the desktop version in SERPs over this mobile version.
3) Desktop Site Mobile Alternate Tags
The last step in the process is the most often skipped by webmasters. Google and other search engines don't want to have to do extra leg work. While they are intelligent and can figure most things out without our help, it only makes sense that Google would reward sites that make it easy, so they don't have to waste computing power to get a full picture.
The best way we can help out the search engines in this case, is to let them know what the equivalent page is for a mobile user on each page within a desktop site. Google recommends we do this using the rel tag in conjunction with the alternate attribute. An example of this tag is shown below.
<link rel="alternate" media="only screen and (max-width: 640px)" href="http://m.example.com/page-1">
By letting Google know what the equivalent page is in the code, they can better serve the correct url to users in SERPs. In certain cases Google will notice the user is on a mobile phone and serve the mobile site alternative urls in SERPs for users searching on those devices. This eliminates the need for your servers to properly redirect in these cases, and can speed up the user experience, if even just slightly.
By adding the rel alternate tag, we eliminate any possible confusion the search engines might have when trying to find equivalent pages on mobile versions of websites.
If you follow these three steps when planning for your mobile experience you will be in much better shape moving forward, especially when Google releases their possible mobile experience update in the near future.