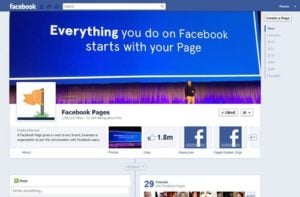 Facebook unveiled the new business pages, aka Timeline, a few weeks ago. All pages can switch on their own now but will be forced to switch on March 30th. For a good recap of the new features, you can read this post from Inside Facebook – Timeline for Facebook pages: a complete overview of new features or Mari Smith's Facebook Timeline for Business Pages – 21 Key Points To Know.
A few biggest things to note that may shake up your business page are:
No more landing tabs
No more differences in view for subscribers and non subscribers
No major calls to action allowed in new cover photos
You can no longer feed your blogs posts in through Notes RSS reader
New ability to 'pin' an important story to the top of the page
You will notice some other changes too as you get used to your new business page layout. One consistent theme I am seeing with the new Facebook changes is more control ON Facebook for all content. There are probably a lot of third party Facebook developers that are less than impressed with the new changes.
Facebook seems to want to encourage, if not ensure, that all content is created on Facebook and not imported from somewhere else. Even before the Timeline changes AdAge reported that:
… using a third-party application — like Hootsuite or Tweetdeck — to update your Facebook Page decreases your engagement per fan (on average) by about 70%"

The company behind the data speculated that there are four potential reasons for the lower engagement:

Facebook penalizes third-party API's EdgeRank
Facebook collapses third-party API updates
Scheduled or automated posts have potential for lower engagement
The content is not optimized for Facebook
Now with the new changes, third party apps have even less control. As I said, it appears Facebook wants content to be created there and not farmed in from other sources that could be getting more traffic, more advertisers or more dollars from the content being made elsewhere.
Why the changes?
It could be because Facebook has gone public, it could be they didn't like the direction and money third party apps were getting or it could just be to remind us of who is in charge on Facebook – Facebook.
I say this a lot when I am speaking to groups or our clients, when participating on social media, it isn't about conforming the site to do what it is you want it to do. We as businesses, marketers and individuals actually need to learn to use the tool as it is intended to be used. These recent changes may be a rough reminder to many developers that were making money getting Facebook to do what they wanted.
Did you switch your Business Timeline yet? After the shock wore off, do you like it or hate it? Have you seen any changes in engagement on your page? How about on traffic to your site? Just curious.