As a de facto podcast fanatic, I have to admit that the choice of podcast readers out there is a little underwhelming. Unlike blogging, where you've got everything from Google's customizable homepage, plug-ins for Outlook, plug-ins for Firefox, and standalone RSS readers, finding the right combination of functionality and ease of use in a podcast reader can be frustrating. Whether you're looking for a better way or subscribing to a podcast for the first time, this guide will help you spend less time searching and more time listening!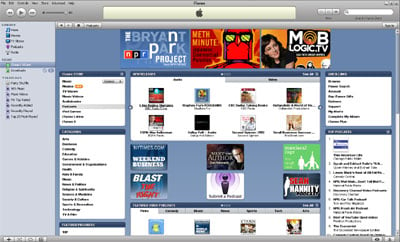 iTunes
Summary: The juggernaut of podcast applications, indeed, the genesis of the phrase "podcast" is Apple's iTunes. iTunes boasts what's likely the biggest podcast directory out there, and the most store-like browsing experience for podcasts. If you're interested in hearing some podcasts, but aren't sure what you really want or where to start, iTunes is the way to go.

Subscribing to a Podcast: About as simple as it could be… from within the iTunes store. Search or browse until you find a podcast you like, and click the conveniently labeled "subscribe" button. iTunes will add it to your library and will automatically start downloading recent episodes. Download more episodes by clicking a dropdown and hitting the "get" button.
From the web, it's a little more difficult. Conscientious podcasters will have a iTunes-specific RSS link with the proper itpc: protocol. If all you've got is an RSS feed, you'll need to copy that feed, boot up iTunes, hit "Advanced," "Subscribe to Podcast," and punch in the RSS feed you have.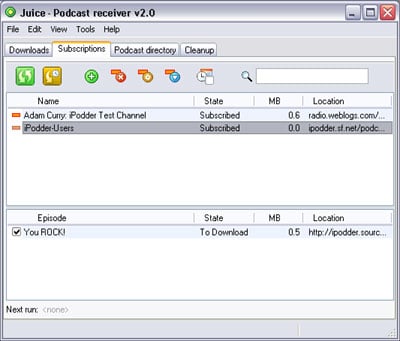 Juice
Summary: Leaner and meaner than iTunes is Juice, a cross-platform podcast reader that makes life a little easier for the advanced user. You can easily add RSS feeds by address, pick episodes you want to download, and browse a boring-looking, but functional, directory of an umpteen-million podcasts. What I don't like so much about Juice is that it tends to go wild with downloads — you can't easily start/stop downloads, or control in what order things are downloaded.
Subscribing to a Podcast: Simple as pie… if you know where to track down the RSS feeds. Though you can configure the software to grab feed names from your web browser, it's not easy to differentiate news feeds from podcast feeds. You're better suited to copy the RSS address to the clipboard, open up Juice, and click the (+) icon in the subscription tab to add your feed.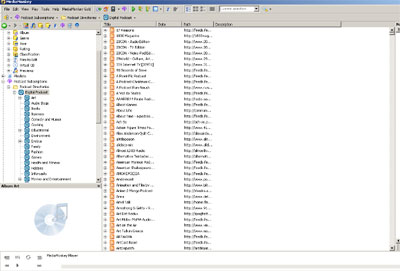 Media Monkey
While it masquerades as a gun-toting, hip-banging, jack-of-all-trades MP3 library manager and media player, Media Monkey is ALSO a podcast reader. Seriously, I've loved this program for a while and its very flexible podcast features really sweeten the deal.
MediaMonkey is similar to iTunes in that it is a complete manager for all your media files — MP3 files, iPod syncing, etc. — but it also features some powerful features such as CD burning/encoding/recoding, and the ability to plug-in META information and tags for your files quickly, intuitively, and easily. Podcasts are available both as subscriptions in a separate podcast area of the program or in your standard MP3 library. You're able to very specifically tell the program how you want to handle your files — e.g. don't download things automatically, download every so often, pause downloads and more.
Subscribing to a Podcast: Comparable to Juice. You need to know the RSS feed you're looking for and then you just choose a "Subscribe to new Podcast" option from within the program. Punch in the feed address and you're done. It also is hooked up into some massive podcast directories so if you want to browse programming without exploring the world wide web, you're able to do so.
While there are PLENTY more podcast readers out there, three's a nice number and these programs are about the cream of the crop. Depending on your comfort level, you can go for full keel, lean and mean, or a combination thereof. Whatever the program you use, pick out the feeds you want and get listening!
Just in case you missed, you may also want to check out our "How to Subscribe to a Blog" post too!