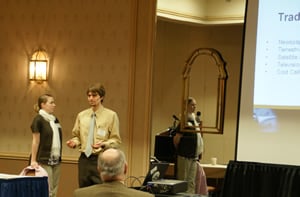 This month Fred and I had the pleasure of speaking at the Maine Bank Expo in Portland, Maine. We had the early bird session at 8:00AM and I was immediately surprised at the large turnout. These very busy professionals got out of bed early to come join us as we talked about Social Media. Our presentation was an effort to cut through the hype of Social Media and discuss the theory behind this phenomenon and the practical benefits for businesses, in this case especially banks.
As we all know millions of conversations are taking place on the Internet about products and services. By participating in these online communities you can have your ear to the pavement on trending topics in your field and on what people are saying off the record about your products and services. I think for banks especially, social media is a great way to connect locally with people in your market and be there as a line of support when people have an issue or question.
Our group at the Maine Bank Expo showed me that this is a very hot topic now in all walks of business but with banking especially, there is more hesitation with that loss of control that can come with social media. Their concerns are valid – identity theft, computer worms and privacy issues. I recently had the opportunity to ask Steven L. Kruskamp Jr. the E-Commerce Marketing Manager at 1st Mariner Bank in Baltimore a few questions about their experiences with social media.
1st Mariner Bank in Baltimore – Online and "In the Know"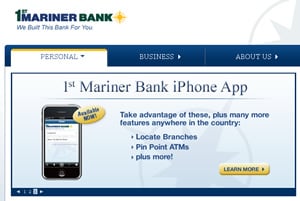 When do you think you jumped on this Social Networking train full force?
This has been a progressive effort for us. It took a lot of educating and hand holding before I received the 'thumbs up' from management. They had valid concerns ranging from opening up our brand to compliance. I wouldn't say that we went full force at any specific point. We have had a strategy of testing and measuring new communication channels to see if there is any customer or business value.
Can you give us a few examples on how Social Networking on sites like Twitter and Facebook have helped your business?
The value differs between 1st Mariner and its stakeholders when it comes to Social Networking. Facebook is considered a way to interact with our brand. Our Facebook page is where customers, prospects, locals and employees can see photos, post comments and get a general feel for 1st Mariner. A benefit for us is when people become 'a fan' of our page which transfers the credibility they have with their network directly to us.
Our Twitter accounts are our communication 'duct tape.' Our twitter account started as a way to join in on conversations – already going on – about the local market, the industry, our bank and to reinforce our statement of being Maryland's local bank. It has evolved into more than that, now serving as a research, promotional and a customer service tool (also check out @fmbcustserv).
How do you feel about security issues with Social Networking sites? For example if someone is a fan of you on Facebook and their personal profile is set to public does that put you or them at risk?
This is a good questions and one that we originally struggled with. Eventually we realized that regardless of us having a branded Facebook page or Twitter account, people are already in these spaces having conversations – good and bad – about us. Contrary to initial beliefs, having a presence there provides more protection than not. It can even turn a negative mention/post into a positive one.
Who do you think should be monitoring your businesses' online presence and reputation? Your marketing team? CEO/CFO/Owners? Interns?
It is going to be unique for each organization. It needs to be someone who is comfortable with the social networking/media space and also has a strong understanding of the brand. With Twitter, it needs to be a single individual. Part of the allure of Twitter is that you get a sense of the individual managing the account from their tweets. This gives the Twitter account a more personalized and warm feel making interactions/conversations easier and more relaxed.
Any exciting things coming up in 1st Mariners future we should keep an eye out for?
We recently launched a new product targeting 18-25 year olds. The promotional campaign utilizes Facebook Connect, FriendFeed and Flickr for promotional purposes and to build a community around the product. Check it out at www.1stmarinerbank.com
---
Want to Know More Now
Read: Business Owners Need to be More Involved with their Marketing Strategy
Read: 5 Tips to Take Charge of Your Social Media Strategy
Read: The Marketing Power Shift – Are You On Board Or Will You Be Left Behind?
| | |
| --- | --- |
| | Wondering what del.icio.us, StumbleUpon, LinkedIn and Squidoo can do your for business? Get the dirt on Web 2.0 and beyond in this introduction to the major social media networks with tips on how to create and maintain a profile for your business for best success. |
| | Sure, you've heard of this crazy "hot app" called Twitter that enables you to micro-blog your story in 140 characters or less… but you already have enough to do, right? Hold on a second – This webinar that talks about Twittering for Business and how you can use this slick service to keep in touch with what you customers are saying and create valuable discussions. |