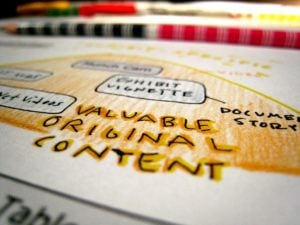 One of the most crucial pieces of advice when it comes to online marketing and SEO is to create quality and engaging content.  Yet, this seems to be one of the biggest struggles for businesses and companies online.  Creating content doesn't need to be overwhelming.  That's why we'd like to share a few tips on how you can produce content that is not only relevant and engaging, but also keeps new and existing customers coming back for more.
1.) Create a schedule and stick to it.
Whether you decide to write one blog post a month or one blog post a week, it is important to have a set schedule. One way to do this is to create deadlines and goals for your content.  A good tool for content management is WordPress' Editorial Calendar Plugin.  This plugin creates an easy to use calendar that is flexible and easy to use.  It is also useful for promoting a collaborative environment with many authors. 
2.) Make a Connection
When it comes to brands, customers love finding something they can relate to. They want a company with real people that they can connect with. But most of all, customers want a brand that they can trust. So don't be afraid to be yourself. Be open and give your users a behind-the-scenes look into the culture of your company. 
Scott Levy says it best in his book, Tweet Naked: A Bare-All Social Media Strategy for Boosting Your Brand and Your Business:
"It's about being engaging, sharing your passions, and talking about your brand as it relates to real people."
3.) Take the Time to Listen
Today, the average user only reads about half an article. They might be reading on the way to the airport, or browsing your content at a cafe.  It's not to say that users don't enjoy reading anymore, it's just that the web has come to support a much faster-paced environment. Thus, it is important for your content to be direct and to the point. A great way to do this is to present information in short, bite-sized pieces. This will ensure users receive your message in the shortest time possible while hopefully digesting all of your key points.
Listening to what your users are talking about and sharing is another great way to create engaging content. Don't just create content for the sake of content.  Nor should your writing be used solely to promote your brand or sell a new product. Take the time to read comments on your website, frequently asked questions submitted to your inbox or even what is trending within your industry, but above all else, listen just as much as you speak.  By not listening, you could be missing out on an exciting opportunity to connect with customers and prospective customers.  Ultimately,  creating the content that truly matters.
 photo credit: 10ch via flickr cc