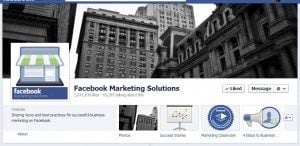 Businesses everywhere are getting used to the new Facebook Timeline. The largest change with the new layout is the large cover image at the top of every page.
Having such a large chunk of real estate that your business can control is a great opportunity. Recent research has shown that the cover image is now the most viewed thing on all Facebook business pages. Some businesses are having a really good time with the cover images and others feel a bit stuck with the large blank canvas.
Here are some things you should know about the new Facebook cover photos:
Dimensions – Cover photo dimensions are 851 pixels wide by 315 pixels high. If you upload an image that is smaller than those dimensions, it will be stretched out to fit.
Cover photos are not ad space – As tempting as it may be, the cover images cannot be used like an ad. Review the page guidelines for exactly what you can and cannot do with your page and your cover photo.

Some things you cannot put in the cover photo:

Your contact information
Calls to action
Direction, arrows or requests to 'like this page'
Price or purchase information

Change your cover photo often – By changing your cover photo often, you are making your page more exciting for return visitors. Also when you do update the photo, it posts to your timeline and goes out to all of your subscribers. Large photo changes like that seem to just beg for fan interaction.

Some ideas for cover photo changes:

Feature different items, staff, fans, landscapes each week
Announce events
Get creative with your company logo
Showcase customer testimonials
Make people laugh
Show your products being used by your customers
Get attention with a catching photo
Awards and recognitions
Collages

Get creative with your Cover Photo and your profile photo – Your profile photo rests nicely against your cover photo. Lots of people are getting very clever with this space. I found some great examples in this Social Media Examiner post
Facebook Cover Images are definitely a new opportunity to engage your fans and customers. How are you using this new space to get more engagement from your subscribers?
For more information on the new Facebook changes to business pages, check out our webinar next week: Business Facebook Pages – What You Need to Know