I'll admit it – I'm a sucker for a good bargain. At this point in time I am subscribed to Groupon, Living Social, Dealitious (a Portland, Maine-based Groupon-esque service), and The Maine Deal (another Maine-based site similar to Groupon). Plus, Mashable just released a confidential fact sheet from Google that "outed" Google Offers, Google's up-and-coming group buying service. Now, this is all getting a little bit out of hand and hard to keep up with. Who has the best deals? Do I need subscribe to them all? Should my business take advantage of advertising using these kinds of websites?
I might not have all the answers, but, as someone who has definitely jumped on the social group coupon bandwagon I'll share some thoughts.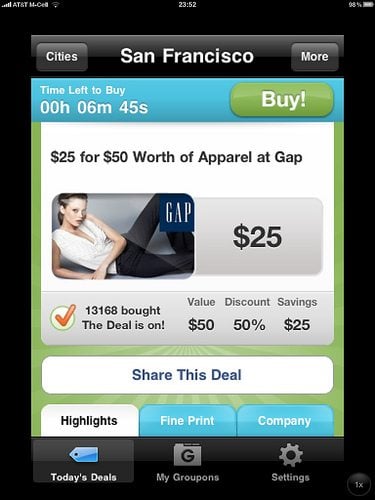 Photo credit:
yoshinari
What are they?
You might have heard of "deal-of-the-day" websites or group coupons. Basically, the way these services work is that a user subscribes to the service and gets daily emails about special deals going on. These deals are more than a rinky-dink percentage off, they are usually a pretty substantial discount! With Groupon and Dealitious there needs to be a minimum of deals purchased in order for the user to get the deal. For example, the deal of the day is "$10 for $20 worth of sandwiches at An Awesome Sandwich Shop" and there needs to be a minimum of 10 purchases in order for the deal to become active. You choose "buy now" and put in your credit card number. If less than 10 people purchase the deal, the deal does not go through for anyone, but if more than 10 deals are purchased the deal becomes active for everyone.
All of these sites are connected through social networks by means of Facebook likes, Facebook's "Like" pages, Facebook Connect, Twitter, email, etc. This helps promote the deals like wildfire. With Groupon, they have a refer-a-friend program where the user can get $10 Groupon dollars when someone you've invited purchases their first Groupon deal. LivingSocial has a promotion where you can get your deal free if you can get three other people to purchase it. They are getting the users to market their deals, offers, and the promotion of their website. Aren't they smart?

Interface
These kinds of sites all have similar layouts that include items like: the offer,  the percentage off/cost, the value/savings,  an eye-catching image, a brief description, and a "buy now" call to action. As I mentioned above, each of the sites also includes a way to share and promote the deals, so that the deal reaches as many people as possible. All of the ingredients of a well-oiled landing page. I could write three more paragraphs dissecting the elements of these interfaces because here at Hall, we just love our landing pages, but I'll save that for another post.

Business Application
These group buying and deal-of-the-day services appeal to businesses because it's a way to reach new customers that doesn't cost a lot up front and guarantees to bring traffic through your door. The offers also create a word-of-mouth buzz, sometimes even long after the deal is over, because people are taking about deals that they have purchased in the past and their experiences using the services. I think this would be an especially great application for new businesses trying to build awareness or additional location launches.
There has been some talk about the downside of using these services. So, if you are interested in advertising using one of these sites you should:
Consider the costs of advertising and find out any fees associated with the service.
Decide on a reasonable price point. You want to offer a great discount but you don't want to inadvertently pay for patrons to come to your venue.
Make sure you have enough staff to provide the same great service with the influx of foot traffic.
Devise a plan to continue marketing off the momentum provided by advertising with the service.
What's the deal with Google Offers?
I mentioned that Mashable released information about Google Offers, they also followed up that story with their thoughts on what that would mean for Groupon. The post explains that originally Google tried to acquire Groupon for $6 billion but got turned down. Just recently, Mashable posted commentary from the Founder and CEO of Groupon, Andrew Mason, who gave some insight about the future of Groupon. All of this gets me thinking about what Groupon has in store for the future; it being the company that spear-headed the "deal-of-the-day" group buying services. Similarly, I think about what Google has in store for us; being known, jokingly, as  the company that is going to take over the world. I'm sure innovative things will come from both and I'm hoping that there will be a clear distinction between the two. I can imagine that Google Offers will integrate with other advertising platforms they already have in place, giving businesses more and more ways to advertise and market their goods and services online.
This is a lot to keep up with, but for people like me – bargain shoppers – it's a new way to save that we HAVE to get our hands on. What I need now is a way to pull all these sites that I'm subscribed to into one common place, so instead of 4 or 5 emails every day, I just get one. If this exists, PLEASE let me know, and if not, can some build it? Thanks!