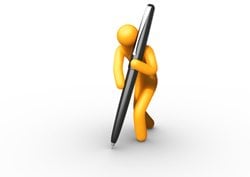 Your website is your online attempt of explaining to the world what you do, why you are good at it and why people should do business with you. Websites have graduated from boring brochureware to dynamic, living content that gives visitors more information and opportunities to interact with that content. A well designed website might impress visitors but it is the content that determines when and where you are going to be found by search engines, sales prospects and visitors of all types.
Adding content to your website is great for SEO
Search engines love crawling new information on your website. Search engines algorithms are private, but we do know that the number of pages you have indexed on them is a plus. The more pages you have indexed, the more of an expert you appear to search engines. Adding fresh content to your site also keeps search engine spiders interested in your website and they keep coming back. The benefit of keeping the spiders interested is when you do add new content it will show up in a matter of days (or less) and not take weeks.
How many pages do you have indexed in Google? See the figure below to do a quick search to find out.


Create content to be found
You can't just toss up mumbo jumbo every day, you need to add quality, helpful content to your website. With tools like SEO and Social Media people are finding our websites in more ways than ever. Give them something good so they continue to return. Think of this as a very unique opportunity. We used to prepare our marketing messages as TV/Radio commercials, direct mail pieces, billboards etc. and we were constantly interrupting people during their daily activities so they would pay us some attention, notice our logo or purchase our products. Now we have this amazing and unique opportunity to BE FOUND by people when they are looking for information on products, services and companies!
When you are creating new content for your website, remember to create content for the people who found your site when they were looking for something. Answer the questions they may have, give them places to download more resources, contact you for more information, etc. Create content to be found the exact moment someone is looking for it.
"Either write something worth reading about or do something worth writing about."
Ben Franklin quote from Inbound Marketing
Generates inbound links
The more content you have on your site, the more opportunity you are giving people to link to your website. Links from other people to your website are called Inbound Links. The more Inbound Links to your website, the more search engines again determine that you are an expert in your industry, giving you higher search rankings.
Content Marketing isn't a sprint, it is a marathon
Creating more content for your website doesn't mean sitting down and writing 100 new pages. Create a content strategy or at the least, just an open mind to continue to add pages and content to your website. Below is a Slideshare presentation: TrendsSpotting's 2010 Social Media Influencers – Trend Predictions in 140 Characters. One of the quotes in it was "content marketing isn't a sprint, it is a marathon", and I have to agree. By creating a content strategy and setting goals for when you will add new content and what you are going to add, you will add more value than if you just put 50 new pages on your website next week.
Adding content to your website is imperative so that your site is current, found by new visitors regularly and to boost your search rankings. Websites can always be added to later or in phases; make sure your site isn't static for months at a time.