It is that time of year again, time for WordCamp Portland, Maine! In our 2017 WordCamp blog post, we discussed general information about what a WordCamp is and why you should attend. In this blog post, I will continue the discussion and provide updated information about this year's Portland, Maine WordCamp.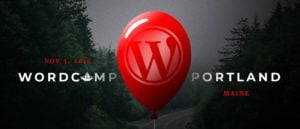 What is a WordCamp?
WordCamp is a locally-organized conference that brings together everyone involved in the WordPress community. Due to its local connection, each WordCamp is unique to the city or region that brings everyone together. Casual in nature, these conferences are for everyone involved and for those who want to join – developers, writers, designers, users, and those just diving in!
WordCamp happens all over the world – there have been over 240 WordCamps in 48 countries. So, if you are not based in Maine, and would like to check out a WordCamp you can find one located near you here.
What is WordPress?
WordPress is a free and open source personal publishing software currently powering 31% of the internet and over 100 million sites!
What Happens at WordCamp?
At WordCamp, you can expect to listen, connect, learn, and grow as you participate in the days' events. This year's Portland WordCamp features a day filled with development, business, design, and marketing professionals who will discuss topics of their choice. Expect to have discussions, ask questions, answer questions, and grow your knowledge of WordPress.
Not only within the sessions but in the common areas and during breaks, you will find a group of people looking to engage and give back to the WordPress community. Each WordCamp is operated by volunteers – organizers planning the event, day of volunteers working the event, and speakers who give their time. Everyone is there to give back, grow, and engage in conversation.
Check out the list of speakers and organizers!
Event Information:
Tickets are available for purchase. This is an affordable event designed to bring everyone together. Click here to purchase your tickets for the WordCamp Portland, Maine 2018 event.
Date: November 3, 2018
Venue: University of Southern Maine – Wischcamper Building
Parking: Free garage parking
So, buy your ticket and enjoy all that this event has to offer!