Turkeys are thawing, pies are baking, people are traveling and it is a time to be thankful. Thankful for health, family, friends and everything else in your world. So how about a little time to reflect on your internet marketing strategy and how well you are doing! Grab a cup of cider and let's talk about some changes in your marketing that you should be proud of!
7 Changes in Your Internet Marketing That You Should Be Thankful For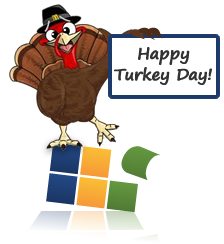 Increased site traffic – This is s big one! Compare your website visits from last year to this year. Are they up? Then you should be thankful! That means more people are searching for you, coming to your site from social media, reacting to traditional marketing campaigns and, all-in-all, experiencing your company and wanting to learn more.
Blog subscribers – If you have a blog, how many more subscribers have you got over the last year? I think many of us will see that more people are subscribing to our blog. Check your RSS counts and the number of people who signed up to have your blog sent to their email. If you have more subscribers this year than last that means people like what you have to say and they are finding it valuable.
Social Media Presence – Take a few minutes to appreciate any positive changes you see in your social media presence. Are your pages getting more subscribers? Are people interacting with your content more on social networks? Are you getting more inbound traffic to your site from social media sites? Social media is where your next customers and your current customers already are. You should be proud that you are engaging with them and that you can see results from the time and effort you are putting in.
Lower bounce rate – Your bounce rate tells you the number of people that came to your site and left right away. If your bounce rate is lowering it is a good indicator that you are being found for the right search terms, you are providing the information people are looking for and that people find your website engaging. Those are all good things to be striving for with your website content.
Mobile traffic – We have been talking a lot about mobile and that is because more and more people are accessing the web on-the-go from their smartphones. Hopefully by now you have addressed how your site looks in mobile browsers and fixed any snafus you came across. Now that your site is tuned up for mobile visitors, you should notice more engagement from your mobile site visitors!
Increased pages per visit – Take stock of the stickiness of your site. Once people come to your site, see if they are sticking around to get more information. See if a person who lands on your products pages ends up reading a few blog posts or poking around in your About Us section.
Goal completions – Creating goals for your site makes analyzing trends on your website easy to get in a moments notice. Set up goals for clear paths and conversions you hope you are getting from your site visitors. Adding a value to those conversions also helps you value to those web visits. More goal completions mean your site is performing the way you had hoped and you should be especially thankful for that!
So this holiday when we are thankful for all we have we should spend a little time being thankful for what we have accomplished with our hard work. By regularly maintaining your website you will see that the conversions, inbound traffic and stickiness of your site continues to grow.
Are there any other internet marketing efforts you are extra proud of this Thanksgiving? Did you close more business from LinkedIn? Did you start a blog? Have you picked away at an editorial calendar that helped you organize your content? Tell us we would love to hear what has worked for you this year!